Gutter Installation
Your gutter system protects your home, foundation, driveway, deck, and landscaping from water damage. When you trust your gutters to Hoffman Weber, you can rely our 20 years of experience installing gutters across the U.S.
Our knowledge and experience make us highly equipped to advise you about proper downspout placement, downspout size and extender products, and gutter leaf protection products.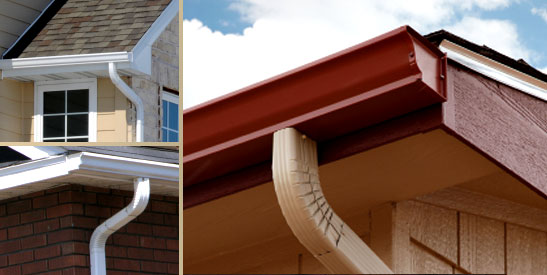 Benefits of Gutter Leaf Protection
We offer a wide variety of gutter leaf protection products to keep leaves and other debris from clogging your gutters.
Prevents water from backing up onto the roof line
Stops falling water from ruining finishes on decks and entryways
Eliminates the potential for injury removing clogs on a ladder
Diverts water to keep basements dry and reduce strain on sump pumps
We Install Customized Gutters
Our seamless aluminum gutters are formed on site to match the dimensions of your home. We take care to select the right gutter, attachment method, installation height, pitch, and downspout placement.
Through a process called extrusion, we run a roll of flat aluminum through a machine that forms it into the gutter shape at a length that exactly fit your home. We then join these custom lengths of gutter to corner pieces using high quality sealant meant to withstand repeated exposure to a high volume of water. Corners and downspouts are the only places seams occur in the entire gutter system, keeping the potential for leaks to a minimum. In addition, we ensure that downspouts are properly placed to reroute water away from your foundation and landscaping, preventing erosion from running water.
Gutter Installation the Hoffman Weber Way
We Determine The Best Arrangement For Downspout Placement
We will inspect your property and advise you of the best arrangement for downspouts to avoid damage from water runoff, if you have a garden nearby we can optionally direct water towards it as well. We'll take into account any trees that hang over your roof line as we help you decide on gutter protection products and the size of your downspouts.
Your New Gutter Materials Arrive
The day that your project begins we'll arrive with a roll of aluminum to form your gutters and the leaf blocking accessory and downspout extension products you have chosen. A dumpster will also be dropped off to collect any old gutter materials if an old system is being removed.
We Protect Your Property
We will carefully lay out tarps and build temporary protective structures over fragile plants, flower beds, and other sensitive areas before we begin installing your gutters or before removing any old gutters.
Your New Gutters Are Installed
We will then install your custom made aluminum gutter sections, corner pieces, and downspouts, creating high quality seals which withstand large volumes of running water.
We Install The Leaf Blocker of Your Choice
We'll complete your gutter system by installing the gutter leaf protection product you've chosen, making your new system virtually maintenance free.
We Clean Up Your Property
Once all work is completed on your home's exterior, the final cleanup begins. We do a thorough visual inspection for debris and perform magnetic sweeps to pick up stray screws or fasteners.
Your Project Manager Does a Final Inspection
After your project has been completed, your HW Project Manager will carefully inspect the entire project from the downspout extender to the leaf protection accessory, to ensure it meets our strict standards.
Get a Zero-Pressure Estimate
Contact us today, and we'll get in touch to set up an estimate, so you can start enjoying your new gutters soon.