7 Pro Tips for Do It Yourself Remodeling
by Hoffman Weber Construction, on June 03, 2020
Do it yourself (DIY) can be very satisfying. Not the actual doing: That often is frustrating, painful and exhausting. But the pride from a completed project? It's cause to have your brother-in-law over for beer and boasting.
The problem is that many do-it-yourself projects can devolve into start-it-yourself projects. Mere muscle pain can escalate to serious injury. And what seemed like a great way to save money can cost you way more than the receipt for materials.
Hoffman Weber Construction often does exterior facelifts for aspiring and former DIYrs. Just because homeowners can install faucets and assemble IKEA doesn't mean they are ready to replace their roofs or remodel their kitchens. If you plan to do your own remodeling, here are some Pro tips that could help you avoid serious problems.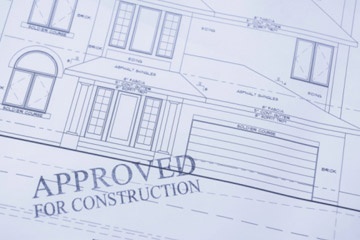 1. Get permits and inspections
Get required permits even if it means the city will increase your taxes. Permits ensure that work is done properly so it is safe and will last. We are professionals and always get permits and inspections. It's even more important for someone who lacks professional experience to do so. When you go to sell your home, savvy buyers will ask to see permits for work that is not reflected in the property records. If you do the work yourself and failed to get proper inspections, it will be suspect even if you did it right. If you aren't sure if you need a permit, call your local building department and ask. They're not so bad. Well, most of them.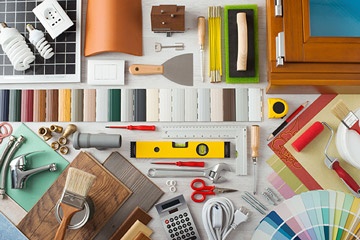 2. Be prepared and buy extra
DIYrs waste enormous time making multiple trips to the home center because they run short on materials or discover they need a tool. Don't start shopping until you have thought it through and made a list of everything you will need. It is better to buy the third box of luxury vinyl tiles than to return to the big box on a Saturday afternoon to pick up more material to finish the job.
It also helps to prepare the job site before you begin work. I know you live there, but when you start a project, the space becomes a job. It's going to get dirty. Furnishings can get damaged. Give yourself room to work without worrying about exposed toothbrushes getting dusty.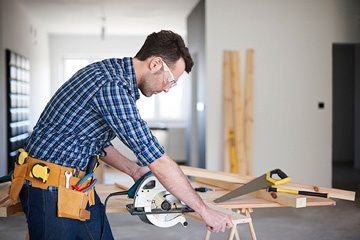 3. Rent the right tool
Many DIYrs try to do professional-grade remodeling projects with consumer-grade tools. Small, underpowered sanders with no dust collection. Hammers instead of pneumatic nailers. Circular saws instead of power miter saws. Wimpy cordless drill drivers. If you plan to do a lot of projects, buy good tools and learn how to use them safely. Don't forget the safety glasses, hearing protection, dust mask and gloves.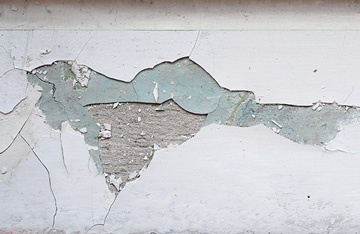 4. Beware of lead paint
If your home was built before 1978, test surfaces for lead paint before disturbing them and consider hiring a Lead Safe certified contractor to do the work. They will seal off the work area, capture dust, clean surfaces and retest when they are done. Keep in mind that dust becomes embedded in work clothes. So if you climb into your vehicle, sit in your favorite chair or hug your kids before changing and washing up, you can expose your family to lead poisoning.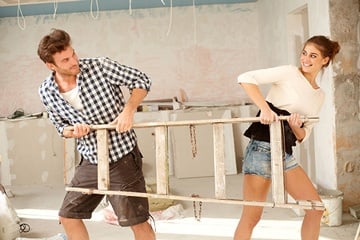 5. Start small & Knock off early
The bigger the project the more skills, tools and time will takes. So start small. Nothing feels worse than causing a big, expensive problem by making a mistake on a smaller project. Dirty Harry in Magnum Force got it right, "A man's got to know his limitations." Women too.
You want to finish the project, but stop before you are tired. That goes double if you are on a roof, working from ladders or operating power tools. Most construction accidents happen at the end of the day when we are tired or rushing to get it done. Besides, you need to allow enough time to clean up and put tools away.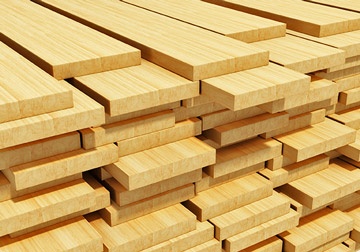 6. Have building materials delivered just in time
If you have ever seen a sheet of drywall fly off someone's roof on the drive home from the home center, you will appreciate the value of having building materials delivered. Be sure to keep lumber dry and neatly stacked so it doesn't twist and bow before you use it. And secure tools and materials so they aren't stolen.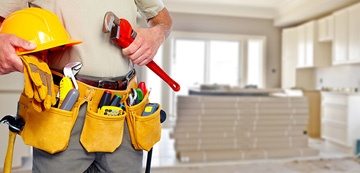 7. How to "really" help your contractor
If you are a DIYr who hires a pro, do what you say you will by the agreed date so you don't delay the schedule. Clear the work area of personal items so the professionals can work efficiently. Don't ask the contractor to skip permits and inspections. Appreciate that skilled tradesmen deserve to charge for their time and make a profit and that project management isn't free.
---
Before you embark on some heavy home improvements, it may be worth it to invest in a home warranty plan. We've found a solid comparison of The Best Home Warranty Companies of 2020 to help if you are unsure which warranty is best for you.