Ask A Contractor - Roofing, Siding and Windows Trends Featuring Jason Iwig
by Hoffman Weber Construction, on January 11, 2019
At Hoffman Weber Construction, we want what you want. But we also recognize that you want to be aware of trends and new materials. Because we complete as many as 1400 projects a year, we are in a unique position to understand what's happening in the market. Our residential remodeling consultants share their product knowledge and expertise during each zero-pressure in-home consultation. Contact us to make an appointment. Until then, here's a preview from one of our best, Jason Iwig.
Siding Trends
Q. Hoffman Weber installs both James Hardie fiber cement siding and LP Smartside engineered wood siding. Which do customers prefer? Which do you think is better?
A. People seem to be more aware of James Hardie when I arrive for the initial consult. Both products are industry leaders, and they have gotten even better over the years. I've been to both manufacturing plants and was impressed by their process and quality control. Proper installation is as important as the product itself. Hoffman Weber crews are trained to install both types of siding, and the manufacturer reps are great about coming out when requested to make sure our jobs get off to a good start. The James Hardie product is a little more expensive and harder to install than LP Smartside. We pay our installers the same for labor so the Hardie siding costs clients just a little more.
Q. Are customers choosing prefinished siding and trim? If so what colors?
A. Prefinished is the best choice for a lot of reasons, including price. It costs less to install pre-painted siding that to hire a painter to finish the surfaces on site. Plus you know factory conditions are right when the coating is applied. Hardie finishes its siding itself. LP uses third-party prefinishers. Prefinishing enables us to complete jobs in any season or weather. That's huge in climates like Minnesota, Denver and Omaha. We can install siding in November and you don't have to wait until spring to get it painted. The only time we would install siding that's just primed is if we are patching in a small section of siding before the whole house is painted. Prefinished siding typically does not need to be repainted as soon, but you still need to keep an eye on the caulking because that usually goes first.
Q. What siding colors are most popular now?
A. Earth tones are back on the coasts, but grays and blues still seem to be the most in vogue here in the Midwest. I bet half the siding project I sold in Minnesota over the past year have been some sort of gray. Not as many earth tones unless it makes sense to complement brick. People also are choosing contrasting trim, usually white, for corner boards, fascia, soffits and window and door trim.
Q. Do you recommend the same material for both siding and trim? For example, LP trim with LP siding, Hardie with Hardie?
A. We typically match the material used in the siding and trim, however we prefer aluminum soffits. Fiber cement soffits are fine in new construction, but they're awkward and heavy for remodeling applications. Plus the aluminum soffits vent better. We like cellular vinyl for the skirt board nearest the ground because it cannot absorb water from splashing.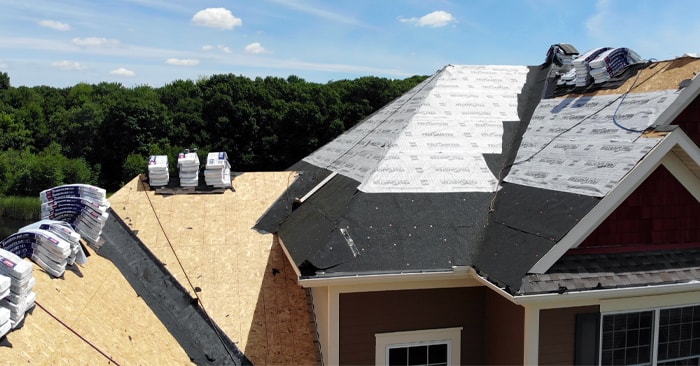 Roofing Trends
Q. What are Hoffman Weber customers choosing for their roofs?
A. People ask about metal roofing but they usually talk themselves out of it when they hear the cost difference. Most clients choose laminated architectural asphalt shingles. We install so many of these architectural shingles that we can offer them at a great price. Hardly anyone goes with the basic 3-tab asphalt shingle anymore. Besides, the GAF and IKO architectural shingle products we install look better and have longer warranties.
Q. Are people asking about the new solar shingles?
A. Not here. The Minnesota climate is not the best for solar. And introduction of the Tesla Solar Roof has been delayed until the company is satisfied the product will last 30 years.
Q. I understand that Black Sable is one major roof shingle brand's color of the year. What are you seeing in color preferences for roofs?
A. Mostly gray or brown. Occasionally black if they are modernizing. Most people stay with a neutral color. They're not going to take a chance on something that lasts as long as a roof. I sell a lot of castle gray and estate gray.
Q. Do people ask about a dark roof absorbing sun and overheating their attics?
A. In general, dark roofs do absorb more heat. However, some dark GAF shingles are engineered with angular granules that reflect the sun's rays. The angular granules also make the roof look a little shinier.
Q. I see some roofs with metal valleys and others where the shingles meet. Which is more popular? Which is better? Which is more expensive?
A. Both open and closed valleys are code approved. There is no difference in cost. There's a slight preference for metal valleys, particularly if there are a lot of trees, because they are more slippery. We install ice and water membrane under both systems per code. So it's not just about what you see.
Q. Are Hoffman Weber customers typically installing or upgrading gutters when they replace their roofs?
A. If your roof has hail damage there's a good chance the gutters are damaged too. A well-designed gutter system is important for directing water away from your home and keeping your basement drier. It also can extend the life of a lower roof by eliminating the waterfall from an upper roof. Quality leaf guards will keep gutters flowing in the fall, but they can double the cost. Our best leaf guard product is Gutter Dome. It pairs a perforated metal cover with a fine mesh screen.
Window Trends
Q. Hoffman Weber installs a number of window brands and materials. What do your clients prefer? What do you push?
A. The truth is most people don't know much about how windows are made and many contractors are partial to one brand or another. Full disclosure, my wife works for Marvin. Windows are a big investment so I try to understand each client's look, performance and budget goals. Hoffman Weber handles a lot of hail damage claims, so we see a real difference in clad wood windows impact resistance. On a Marvin window the cladding gauge is as thick as a quarter. With Pella it's more like a soda can. And Anderson is vinyl. Lindsay and Marvin Integrity use Fiberglass frames.
Q. Do you prefer full frame or sash inserts when replacing windows?
A. About 95 percent of the windows I sell are full frame. We only recommend inserts in historic homes where the interior woodwork would be compromised with a full frame installation. When we replace the entire window, we address rotted jambs, foam insulate the rough opening and seal the perimeter with flex wrap and Quad caulk. And the glass panes stay the same size.
Q. What brands of windows does Hoffman Weber install?
A. We buy Beechworth fiberglass and Lindsay vinyl windows direct so we can offer the best prices on them. But we also install Anderson, Pella and Marvin windows.
Q Fiberglass appears to be the newest window frame material on the block. What are the advantages?
A. Fiberglass window frames are rigid and they expand and contract during seasonal temperature shifts at much the same rate as the glass. That's good for seals. And unlike wood, fiberglass cannot rot from moisture exposure.
Q. What do you think about the new window styles with the narrow black frames?
A. Black is different and bold because we're not used to it, but it actually is fairly neutral. Black goes with almost any inside or out. It complements natural wood and a variety of colors. The contrast also can be effective framing natural light and the outdoor view. It often is used to achieve a contemporary or updated look. But you may have to dust a bit more often.