Home Gutter Systems & Installation Costs
by Hoffman Weber Construction, on July 08, 2010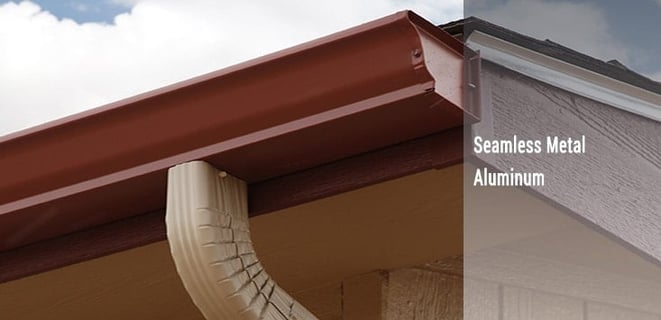 A properly installed gutter system can save a home owner a lot of heartache. The routing of rain and snow runoff away from the roof and house can prevent water damage to siding, windows, doors, and the foundation. The best time to install new gutters on your home is at the same time as a roof installation so that the gutters can be integrated with the new roofing materials.
Gutter Shapes and Sizes
The most popular gutter shapes are half-round, U-shaped gutters and the boxier, K-shaped gutters.
They are available in various sizes, up to 5 inches in width. Larger sized gutters are less likely to clog, reducing the chance of water overflowing into the house or attic. A 3 - 4 inch downspout is recommended for homes with tree branches hanging over the roof line that might drop leaves or needles into the gutters.
Gutter Materials and Cost
The most common gutter material is aluminum, available in primary aluminum, which offers the better quality since it is thicker than secondary aluminum, which is produced from recycled materials and has inconsistent thickness. While aluminum gutters do not rust, they are prone to denting and damage from ladders leaned against the house for cleaning, so it is best to install the thickest aluminum you can afford. Installation of an aluminum gutter system could run you $5 to $9 per linear foot.
Another popular material for gutters is steel. Galvanized steel gutters are a good value at $4 to $8 per linear foot installed. It is durable, able to withstand leaning ladders and severe weather, but may eventually rust. Stainless steel gutters are strong and not prone to rusting, but are more expensive to install at up to $20 per linear foot.
Sectional vs Seamless Gutters
Sectional gutters consist of 10 to 20 foot lengths of gutter snap together along with end caps, corner pieces, and pieces that include outlets for downspouts to form the gutter system. The large number of seams where the sections join increases the chance of leakage which in turn increases the chance of water damage to your home.
Seamless gutters only have joins at corners and where downspouts connect, so they avoid problems with leakage. Rolls of aluminum or steel are shaped on site by machine in a process called "extrusion" which creates custom lengths of gutter to match the dimensions of the house.
Both sectional and seamless gutter systems are available in factory painted aluminum and steel in many colors which can be matched to the color of your siding.