Pint-Size Formula 1 Cars, Candy Draw Smiles at Fridley 49er Days Parade
by Hoffman Weber Construction, on July 03, 2013
Although Hoffman Weber often meets families and business owners after severe storms have damaged their roofs, siding and windows, the recent Fridley 49er Days Parade offered a fun, fair-weather setting to show its support for the community. Plus it was something of a homecoming for Hoffman Weber President Joe Hoffman and his cousin, James, who grew up in Fridley and still live nearby.

Several Hoffman Weber families and staff members rode in the parade and handed out 15 huge bags of candy along the route. The Pink Panther (aka Bobby Spindler) towered above one Hoffman Weber truck, a reminder that Hoffman Weber is an Owens Corning Platinum Preferred Contractor that offers the best warranties and workmanship in the business.
New to the parade this year were two Hoffman Weber go-karts with Formula 1 race car bodies that were painted in company colors and displayed the Hoffman Weber and Better Business Bureau logos. They were crowd favorites and fit Hoffman Weber's reputation for rapid, reliable storm damage response.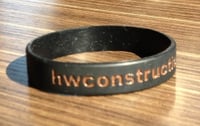 Onlookers also snatched up new Hoffman Weber wristbands bearing the URL of the company's revamped website. The site's a great place to obtain valuable advice on home improvement, storm repair and insurance claims.
Taking Time For Community
Hoffman Weber is accustomed to successful construction projects generating smiles and positive reviews. But on a beautiful June evening among families and friends, it was nice to let a big fuzzy panther, a couple of miniature race cars and a truckload of candy do the job.
The HW team wishes everyone a happy summer
and hopes to see you at the 49ers Days Parade next year!
An Expanded Position For The Company
The fair-weather event provided an appropriate backdrop for the broadened general construction services that HW introduced this year. In addition to being a leader in storm repairs, Hoffman Weber now offers kitchen, bath and basement remodeling and room additions, complete with in-house design services. Hoffman Weber is committed to serving the community in good times and bad.