The third annual Spring Lake Park 5K & Family Carnival raised more than $7,000 on October 5, thanks in part to corporate sponsorships from Hoffman Weber Construction and others. The district and its non-profit Panther Foundation will use the funds to improve the educational experience for Spring Lake Park, Fridley and Blaine students.
Some 279 runners registered for the K5 and another 150 registered for the family carnival, according to event chairman and former foundation chairman Chris Hasling. While the wet morning forced the five monster bounce attractions and the new Panther Chase into the high school gymnasium, weather conditions improved for the 5K.
Event Chairman Grateful
Hasling praised Hoffman Weber for its ongoing community support and good-hearted philanthropy.
"Joe Hoffman, Adam Brookings and many other Hoffman Weber employees came up through this school system and the company's corporate headquarters started here. On behalf of the Panther Foundation, we are very grateful they continue to give back to the community and support the kids."
Earlier this year, Hoffman Weber was top sponsor of the district's "Hear the Roar" Gala, which raised more than $113,000 for students. Along with matching contributions, the Panther Foundation raised $50,000 to help put 50 interactive white boards in K-5 classrooms.
Hoffman Kids Participate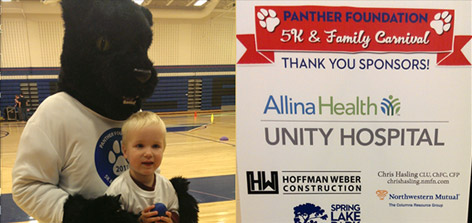 Jackson and Jacob DePoint, sons of Hoffman Weber CFO Jenny DePoint and Sales Representative James DePoint, participated in this year's inaugural Panther Chase, where young kids try to catch the school's mascot. But the panther may have to up its game next year. Hoffman Weber is a top-tier Platinum Preferred Contractor for Owens Corning roofing products. There's talk that the Owens Corning Pink Panther may challenge the Spring Lake Park panther to a race at the 2014 event.