Hoffman Weber Climbs Roofing Contractor Magazine Top 100 List with Record Growth
by Mike Kennedy, on November 12, 2013
Roofing Contractor Magazine has once again cited Hoffman Weber Construction in its annual Top 100 Roofing Contractors in the United States ranking.
The Twin Cities-based contractor advanced 20 points, from 100th to 80th place, in the nationwide competition. Hoffman Weber is one of only two Minnesota companies to make the prestigious industry list.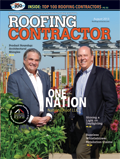 The Top 100 is based on total annual revenues that participating roofing contractors reported to the national publication. The new list and magazine article reflect a nearly 41 percent annual revenue increase for Hoffman Weber in 2012 and an incredible 127% rise over two years.
The Top 100 list showcases roofing contractors that dominate the residential and commercial roofing markets nationwide. These firms also tend to offer superior customer service and earn the highest ratings with premium roofing material manufacturers.
Joe Hoffman Explains Record Growth
"The biggest reason for our growth is our continued dedication to customer service and a work hard, play hard culture. The accreditations and awards we have received over the years can be traced directly back to this," explained President Joe Hoffman
Starting in 2012 Hoffman Weber has invested much more in branding and advertising. It also began to aggressively pursue larger commercial projects and more intensive and complex residential projects. This simultaneously diversified its income streams and added to its growth. General Manager Mike Sample credited the growth to diversity of projects and new markets.
Hoffman said the firm continues to reinvest a good portion its profits into streamlining processes and embracing technology that enhances efficiency, productivity, accountability and communication. The company also has improved it sales process to help representatives explain better what sets Hoffman Weber apart.
Hoffman Weber now operates out of Minneapolis, MN; Denver, CO; Edmund, OK; Chicago, IL; Wichita, KS; Omaha, NE; New Orleans, LA; Madison, WI; Phoenix, AZ; and Salt Lake City, UT. The new corporate headquarters is in Brooklyn Center, MN.
Hoffman Weber has further expanded its general contracting and interior remodeling work in 2013. Roofing and storm repairs continue to be mainstays following severe hail and wind storms this year. But the company also has added new talent and broadened its services into kitchen, bath and basement remodeling, room additions, porches, decks, fire restoration and even post storm tree removal.
"We now have the ability to respond to our clients' broader remodeling needs with design services and the same level of customer service that we provided our roofing customers," said Mike Sample.
Contact Hoffman Weber today to schedule a free Zero Pressure Consultation to discuss your roofing, siding and remodeling needs.