New Roof May Qualify For Significant Homeowner's Insurance Discount
by Matt McDaniel, on January 31, 2015
Updated 5/7/19

If you replaced your home's roof in the past several years or plan to do so in 2015 you probably are entitled to a discount on your homeowners insurance. But unless you contact your carrier and let them know you have a new roof you will almost certainly miss out on the savings.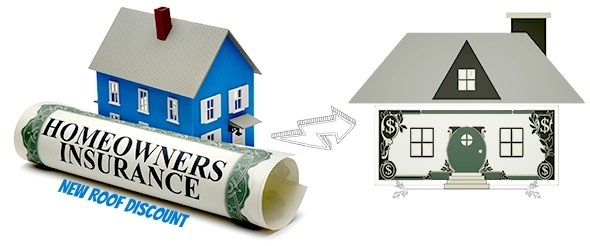 Insurance companies figure a new, professionally installed roof will withstand hail and wind better and be less likely to leak than an old one, so they are willing to reduce your insurance rate to reflect the lower risk. Unfortunately, agents don't necessarily inquire about recent repairs at policy renewal time. So the burden is on you to let them know.
When setting homeowner's rates, insurance companies consider a number of factors including the person's insurance score, claims history, and the type of home and roofing. How much you save depends on the age and quality of the roof.

"I have seen the discount go as high as 27 percent after replacing a 10-year-old roof," said Farmer's Agent Erin Janke of Robbinsdale, MN. However, you need to consult your agent to calculate your own savings and most importantly, be sure the discount is not at the cost of your coverage in the event of a hail or wind storm.
Janke said Farmer's discounts rates on new roofs for six years. If you don't have a roof claim, they will apply the discount from the date of notification. They do not offer retroactive discounts.
Electrical, Plumbing and HVAC Updates Qualify
Discounts are not limited to new roofs. Your old home also may be eligible for a "fire perils" rate cut if a licensed contractor brought your electrical service up to code in the past 14 years. The project must include replacing the service panel, switches, wiring and fixtures or replacing the furnace and central air conditioning (or even just the furnace burners and AC compressor).
Meanwhile, a new plumbing discount may apply if a licensed plumber installed new water lines and plumbing fixtures within the past 15 years. Carriers often require copies of permits and inspection reports to verify that improvements met all building codes.
Sump Pump Backup Eases Deductible
Insurance rates probably won't be discounted if you install a battery- or water-powered back-up sump pump, but it may reduce your deductible up to $500 in the event of a claim. Of course, the backup system means your basement probably will stay dry and you won't have a claim. Funny how that works.
Contact Hoffman Weber to schedule your roof replacement before storm season arrives in March to start saving on your insurance premiums. For more information on insurance discounts check out this Bankrate survey.