Condo, Townhome and Apartment Exteriors Done Right
by Hoffman Weber Construction, on January 30, 2020
Large exterior remodels in multi-family residential communities put most contractors in hyper production mode. With so much manpower and materials invested, it's tempting to do what's fast and easy – not necessarily best -- to keep on schedule. But Hoffman Weber is committed to doing what's right on big jobs. Rather than cut corners or take shortcuts, it relies on advanced production systems and straight lines of accountability to complete projects on time and budget.
One of our core principles is 'Do the right thing, even when no one is watching," said Multi-Family Director Ryan Arvola, CMCA. "Although we seldom have homeowners or association board members looking over our shoulders as we work, we treat big jobs with the same care that we exercise on fussy single-family roofing, siding and window replacement jobs. Everyone acts like Joe Hoffman and John Weber are working right alongside them."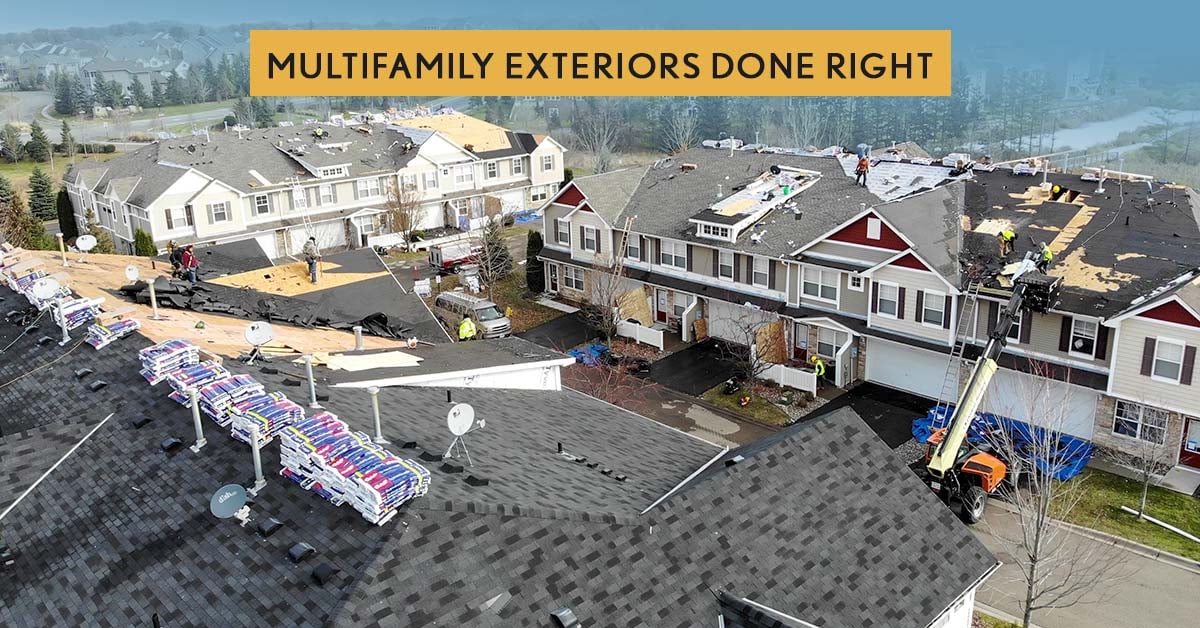 Condo, townhome and senior community projects are classified as commercial, but Hoffman Weber understands it is working on people's homes and conducts itself accordingly. That starts with specifying the right products and materials and assigning specially trained crews who adhere to manufacturers' best practices for installation and understand how to maintain peace with large numbers of homeowners over an extended period.
When you get something wrong or block an entry on a single home, the impact is contained to that one owner. By comparison, mistakes on a big multi-family community could affect hundreds of owners. So, we make sure we set the bar high and communicate guidelines up front to ensure consistent quality regardless of who is holding the hammer or which unit is being improved that day," Arvola said.
Here are some examples of how Hoffman Weber is committed to doing large multi-family community roofing, siding and window projects right.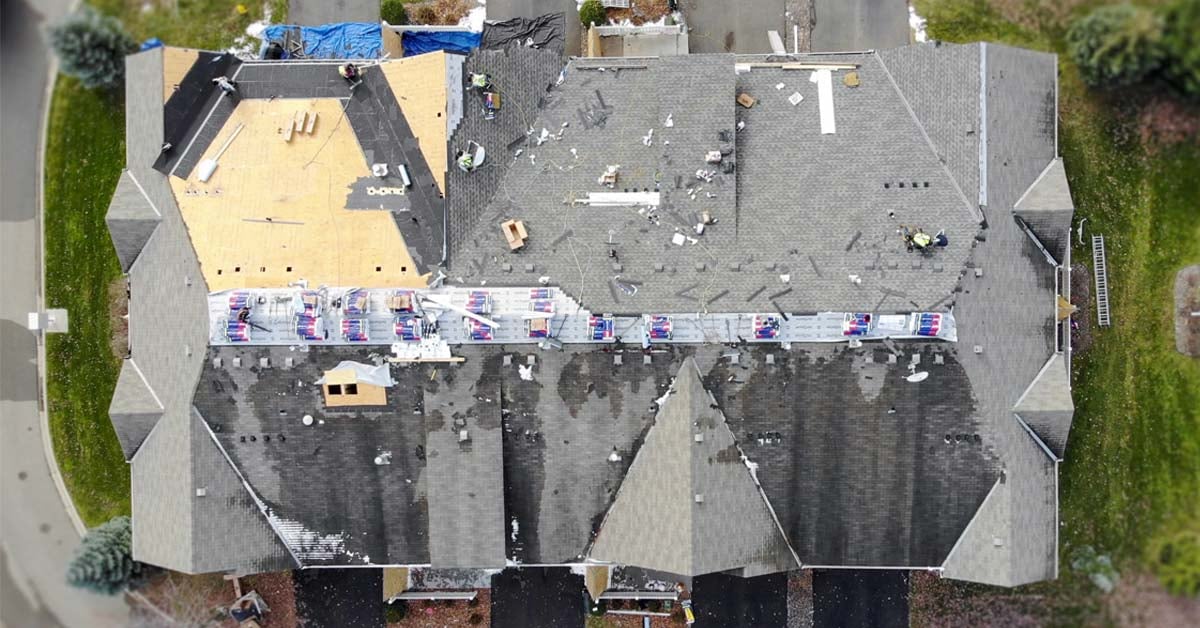 Roofing Systems
Roof systems rely on sound decking and proper underlayment, ice and water membrane, flashing, shingles and balanced ventilation. You might even include attic insulation and air sealing because they reduce the chance of costly ice dams and premature wear. What you don't see is even more important than what you do.
Flashing is particularly critical because most leaks occur at flashing points.
When homes are built, it's easy to get the sequencing right so roof, window and door flashing can be installed with overlapping house wrap before siding to create water-shedding transitions. It's much harder with siding in place. When Hoffman Weber re-shingles a lower roof that abuts siding, we prefer to carefully remove the lower courses of siding so we can flash the roof properly and then reinstall the original siding sections. In fact, we just did this at the 104-unit Colonial Manor community in Plymouth. Less particular contractors may choose to use the existing flashing and merely seal the seam with roofing cement.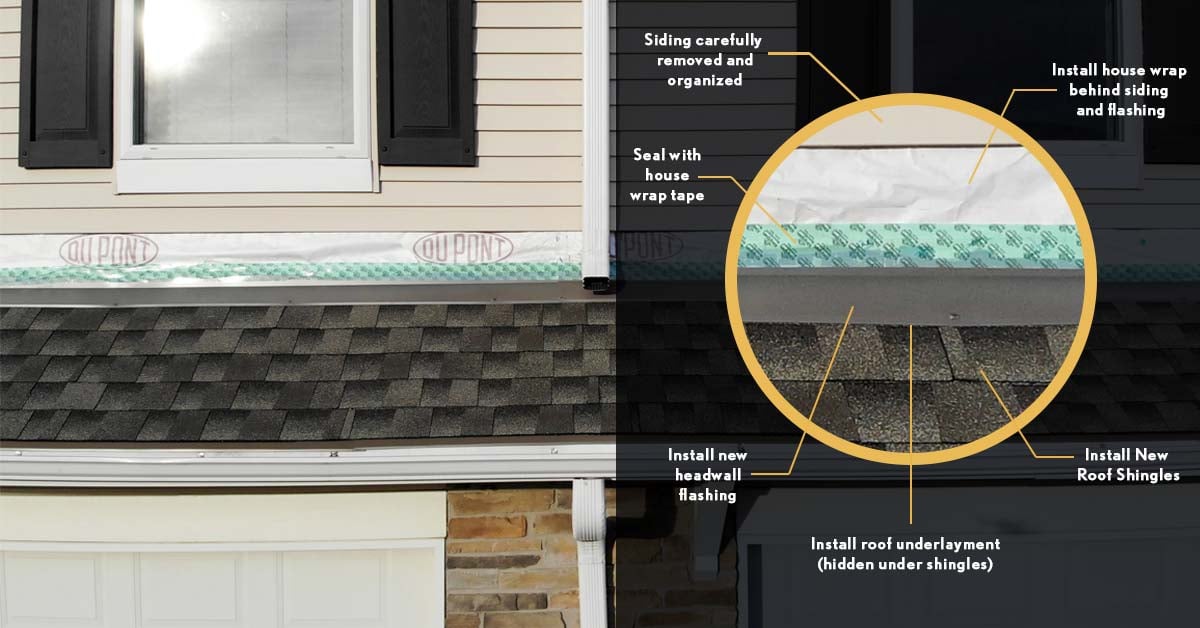 Removing and reinstalling siding courses on a big multifamily exterior project like this can be daunting. Older siding is more brittle. It must be removed with extreme care to avoid breakage. Then each piece is labeled and stored to be re-installed in its original place after the shingles are laid. Hoffman Weber has the process down; we're good at puzzles. By removing some siding, we can install new step flashing along each course of shingles and slip counter flashing behind the house wrap.
We start by evaluating the existing flashing. Sometimes, the previous roofers didn't even install flashing. If they did, was it installed correctly? Is there evidence of deterioration to surfaces around the flashing? Then we educate the community manager on what is needed. Educated customers like the people at Colonial Manor are our best clients.
Roof valleys done right
Hoffman Weber also recommends open roof valleys with metal W flashing on community-wide projects. The faster and easier approach is to apply thin metal flashing along the valleys, run one plane of the shingles across the valley, and trim the shingles of the opposite plane down the center of the valley. Unfortunately, the high volume of water that rushes down the valleys eventually wears the shingles.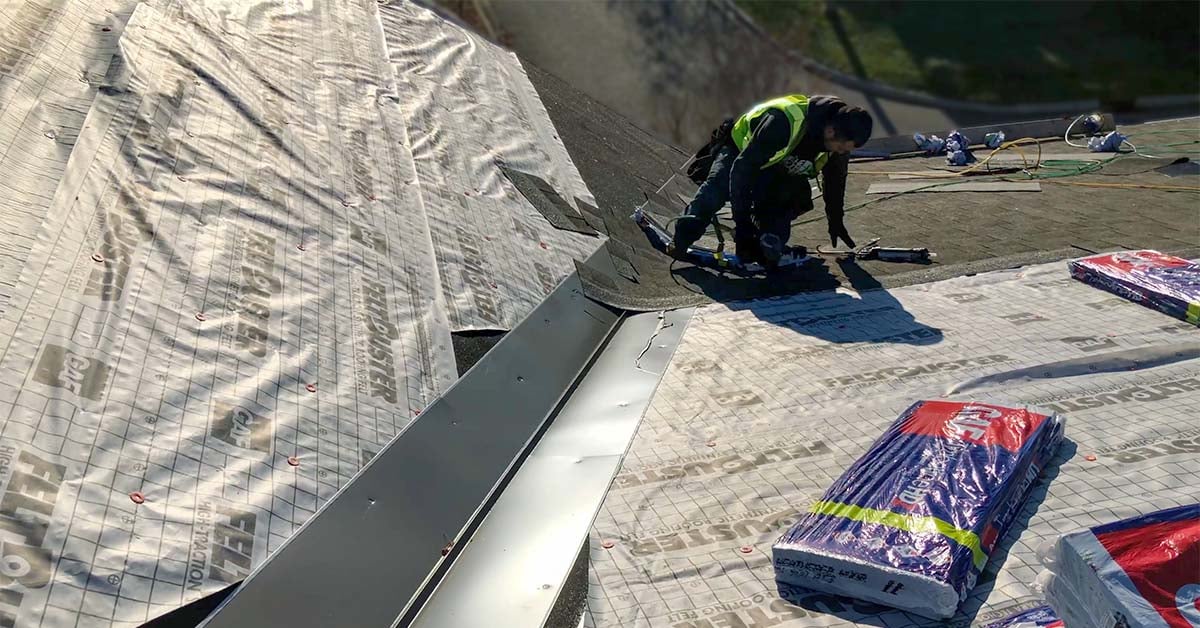 Metal valleys last as long as the roof itself. What's more, the center ridge in the metal W valley flashing design prevents water from rushing across and under the opposing shingles. To be doubly sure of a watertight installation, Hoffman Weber also sticks the ends of the shingles down with roofing cement on both sides of the valley.
Roof shingle nailing
Hoffman Weber installs close to 1000 roofs a year, so we see firsthand what causes other contractors' roofs to fail. One common problem is that roofing nails are not driven or positioned properly. It seems the bigger the job the more likely we will discover these nailing problems.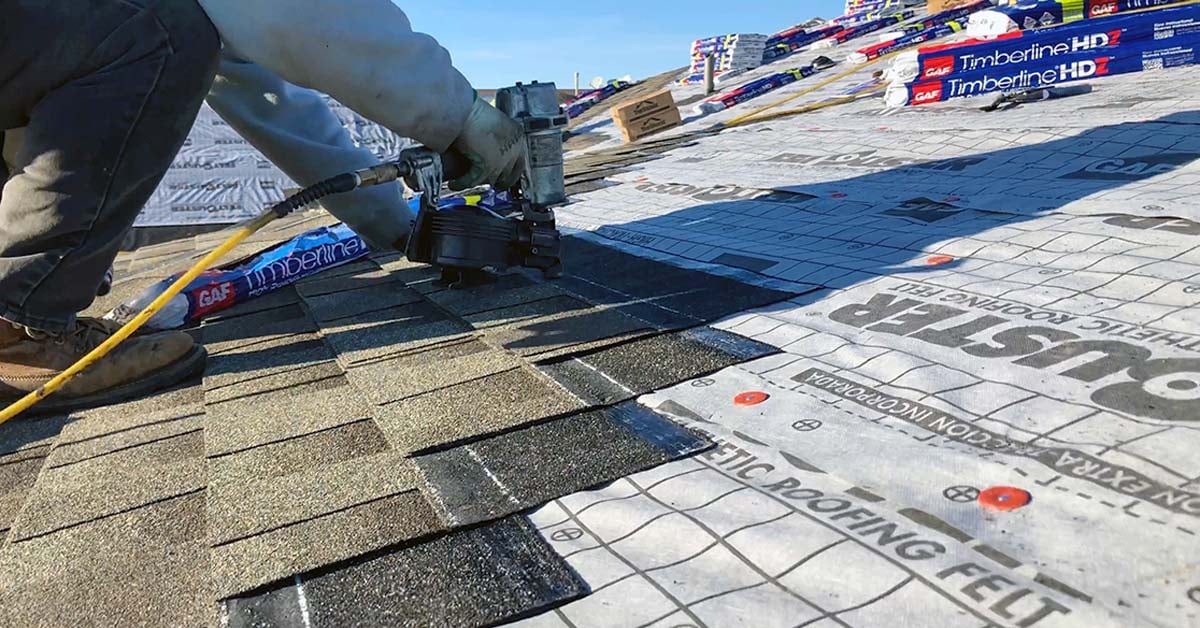 Roof shingles typically are installed with pneumatic coil nailers (coiled strips of nails that advance and fire as the nose of the tool contacts the shingle surface). It's not uncommon to have up to three nail guns feeding off a single compressor. When properly installed, the roof nail heads should lay flat against the shingles' reinforced nailing strips without crushing the fibers. Drive the nails too deep and they will lose holding power. But if a nail head sticks up it will eventually wear a hole through the shingle above.
Hoffman Weber understands that multi-family residential communities need top performance from their exterior surfaces, so we monitor the regulators on our compressors and set the depth of drive on our guns to ensure consistent pressure and proper nail setting.
Cold-weather roofing
Installing roof shingles in extreme temperatures is inherently more challenging on crews, equipment and materials. Shingles get brittle and adhesive strips harden when cold and may not seal. Shingles that have been stored outdoors in subzero weather are not ready to be installed.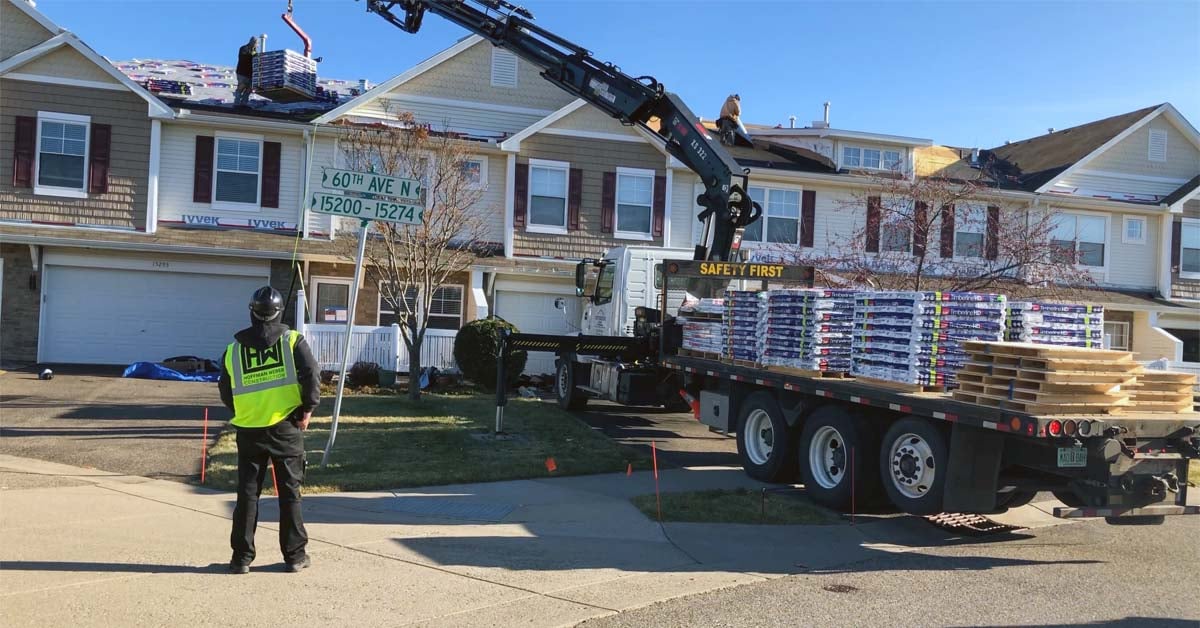 When the temperature dips below freezing, Hoffman Weber pre-warms shingles in a heated warehouse or with heaters under tarps and raises them to the roof just as they are needed.
Favor full-frame replacement windows
Hoffman Weber much prefers to install new construction, full-frame windows rather that replacement inserts on multi-family residential projects. These windows have nailing flanges around the entire perimeter that enable installers to seal the window to the house wrap under the siding and prevent moisture from getting into the wall.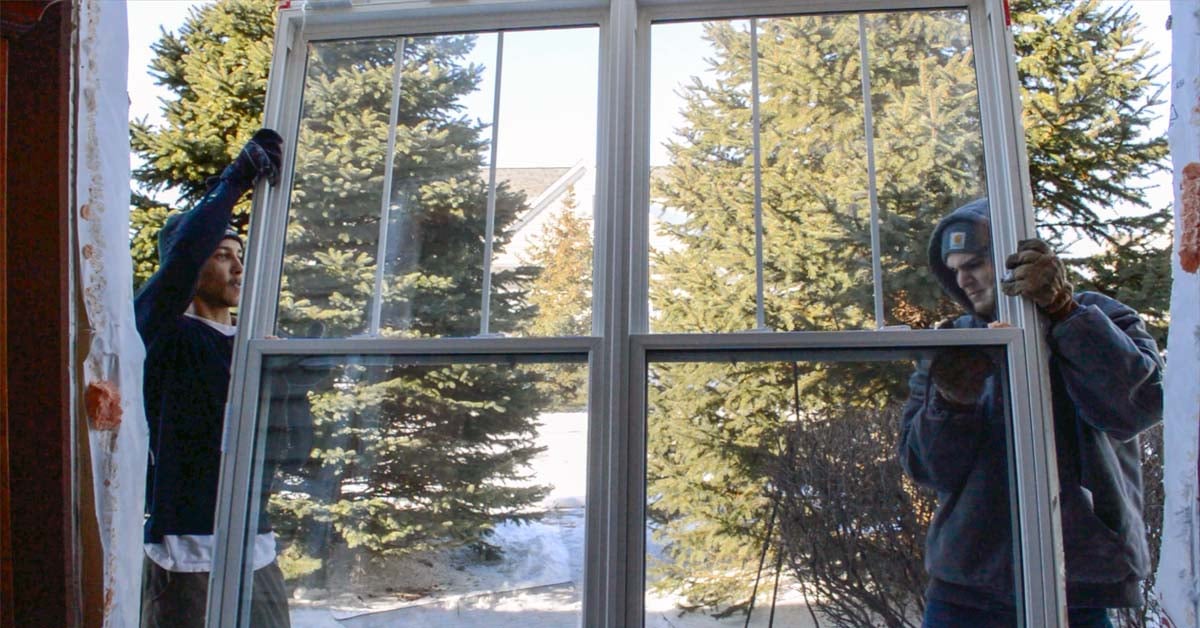 Some contractors merely remove the nailing flanges, so they don't have to disturb the siding. Then they caulk and cover the joint. You can't beat this approach for speed, and it may look fine from the ground. But, unlike flashing, all caulk/sealant is temporary and covering it with a narrow trim strip won't keep water out. In fact, the caulk often fails before the siding paint. Unless the sealant is applied perfectly and re-inspected annually, it probably will fail and leak.
Siding penetrations need special attention
Regardless of the product or design, siding is designed to shed water that's pulled by gravity or pushed by wind. Whenever the siding is penetrated it can admit water. Unless properly sealed, lower penetrations also can allow mice and insects to enter the walls.
Hoffman Weber is diligent about sealing around not just windows and doors but vents, natural gas lines, central air conditioner line sets, hose bibs, sump pump pipes, power lines, cable lines and receptacle boxes.
Superior sealants
While sealants are the weakest component in any exterior surface system, some are much better than others. The formulations also must be compatible with the surface material and installed properly. Hoffman Weber specifies premium silicone, polyurethane or acrylic caulk and sealant to ensure maximum durability. Clear silicone is best on asphalt roof shingles. We specify polyurethane sealant for cedar siding. Crews apply each bead neatly without tooling for best performance. Hint: a rounded convex bead is better than a tooled concave bead because it is thicker.
Serious about safety
Exterior remodeling in multi-family communities raises the bar on safety because it exposes so many more workers and residents for longer periods of time. Hoffman Weber takes safety seriously and ensures that crews are properly trained, equipped and insured.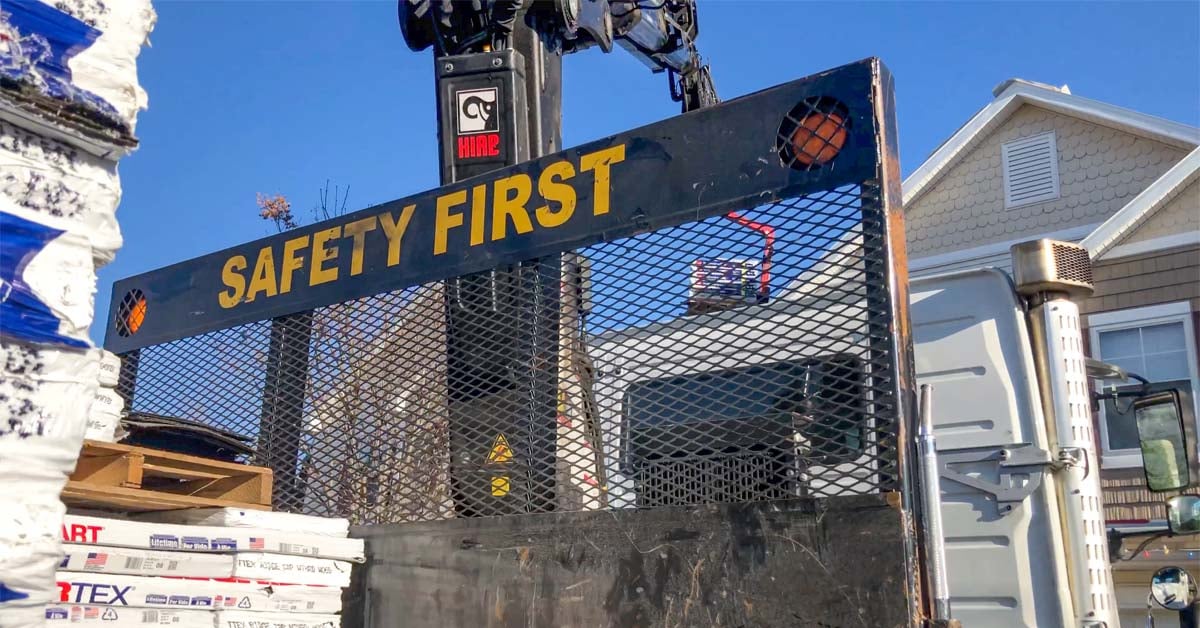 Our roofers use fall protection harnesses and install guard rails and toe boards at eaves when working on high roofs. The toe boards not only are a last defense against falls, they contain debris and materials that may slide down the roof. We also gather tear-off materials topside in containers on hydraulic lifts or direct them down chutes to control collection and keep people and property safe below. Hoffman Weber also uses caution tape and scaffolding to keep residents safe.
Multi-family communities are special
Managing an exterior replacement project at a large multi-family community is not like doing the project at a single-family home. Hoffman uses specially trained crews and systems to excel at these large projects. It starts with our sophisticated autonomous drone system to survey damage, measure surfaces and generate estimates. It employs the same software major insurance carriers use. This speeds settlements. Next, we launch online communications that keep everyone informed. And when the job is done, we offer ongoing inspections and maintenance to preserve the investment.
Contact Ryan Arvola to discuss your own condo, townhome, apartment complex or senior community exterior replacement or storm restoration project.