Top Pet-Friendly Remodeling Features
by Hoffman Weber Construction, on May 22, 2015
Updated 10/27/2020
Both Houzz and the National Association of Home Builders (NAHB) have reported trends toward incorporating pet needs into home designs.
Seeing spending on pets carry into this industry is no surprise considering pet industry spending was estimated at $99 billion for 2020 according to the American Pet Products Association.
So we've rounded up the top pet-friendly products and design features that will make it easier to care for your dog or cat while protecting your property.
Central Vac
Most canister and upright vacuum cleaners recirculate pet dander into the air. With a central vacuum system, it is released outdoors. Consider having plastic vac piping installed while wall and ceiling framing are exposed. And be sure to include a vac port in your kitchen cabinets' toekick for sweeping up dry dog food that spills from bowls.
Feeding nook
Incorporate a feeding nook in your kitchen island where food and water bowls can't be kicked and spills are easy to clean. For added convenience, keep food storage nearby.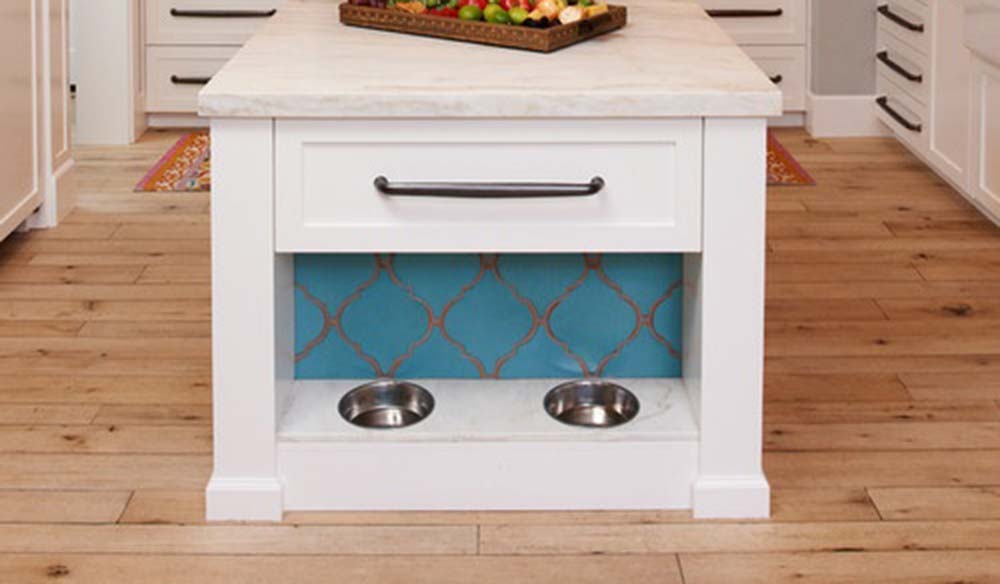 Solana Beach Interior Designers & Decorators
Crate Alternative
Many pets like the sense of security they get from sleeping in protected, enclosed spaces, but ordinary metal crates are unattractive. Instead, design a gated sleeping area into a cabinet or bookcase or a wall nook.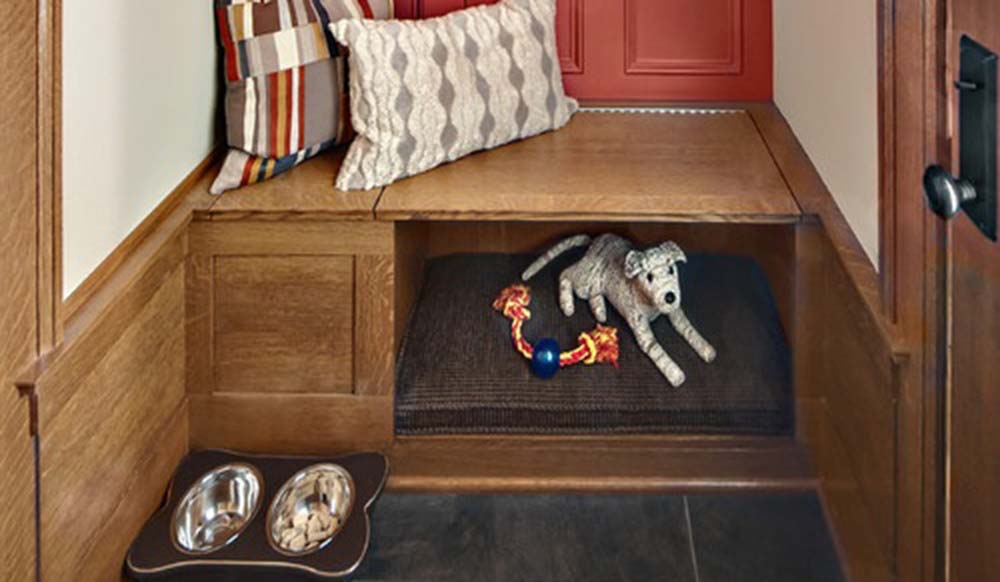 Che Bella Interiors
Hardwood Floors
In Minnesota, it's common to remove shoes when entering the home to protect floors. But what about the dog? Moisture-cured urethane finishes are harder and more durable than standard oil-based polyurethane finishes. They will resist scratches from dog's claws. For added piece of mind, have your groomer buff your dog's nails after cutting to remove jagged edges.
Gated Entries
Rather than rely on baby gates to keep your dog in one room or out of another, consider a stylish custom pocket gate that slides into or along the doorway wall and matches the woodwork. They works for babies too.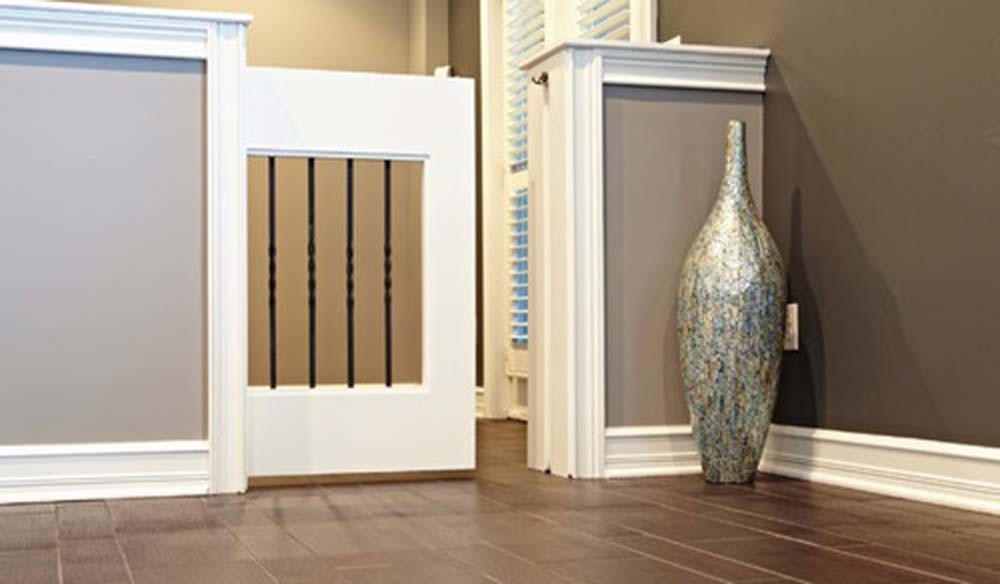 M.J. Whelan Construction
Carpeting
Although pets are rough on carpeting, some fibers and piles are better than others. Choose cut rather than loop pile so claws don't snag and create pulls. Berbers are the worst. Polyester carpeting is the most stain resistant. However, pay attention to the carpet backing as well. Carpet with a waterproof or gel backing will prevent pet accidents from soaking into the pad and subfloor where odors and bacteria are harder to remove.
Dog wash/grooming station
Consider building a dog wash/grooming station with a hand spray, hitching loop, and blow dryer in the mudroom. It should be at a comfortable height and include a slip-resistant mat. The station also will come in handy for rinsing dirty boots and paws. An elevated shower pan with a tile or stainless steel surround works well. Don't forget the rubber apron!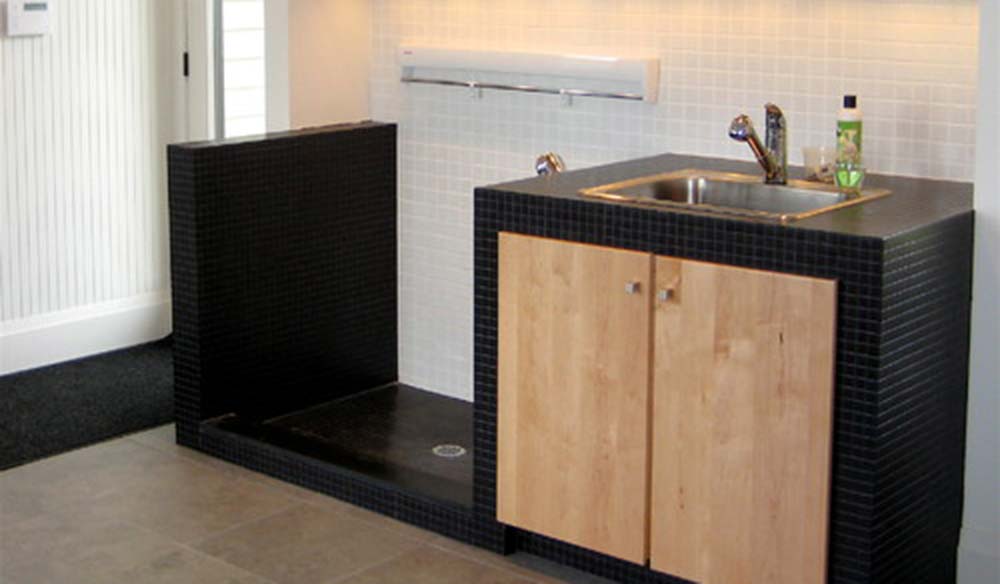 Toronto Architects & Building Designers
Check out our
Remodeling with Pets idea book
on Houzz for more images. Be sure to choose Hoffman Weber to refresh your home with ingenuity while providing your family and pets with comfort.