Autonomous drone speeds damage inspections and insurance settlements
by Hoffman Weber Construction, on August 16, 2019
You may not be ready for a self-driving Uber to shuttle you home from the airport. But how about a self-piloted drone that can inspect every home in your neighborhood association in eight hours and produce a construction estimate that's so reliable your insurance carrier approves a multi-million dollar hail damage settlement in a day? Welcome to the world of Hoffman Weber Construction.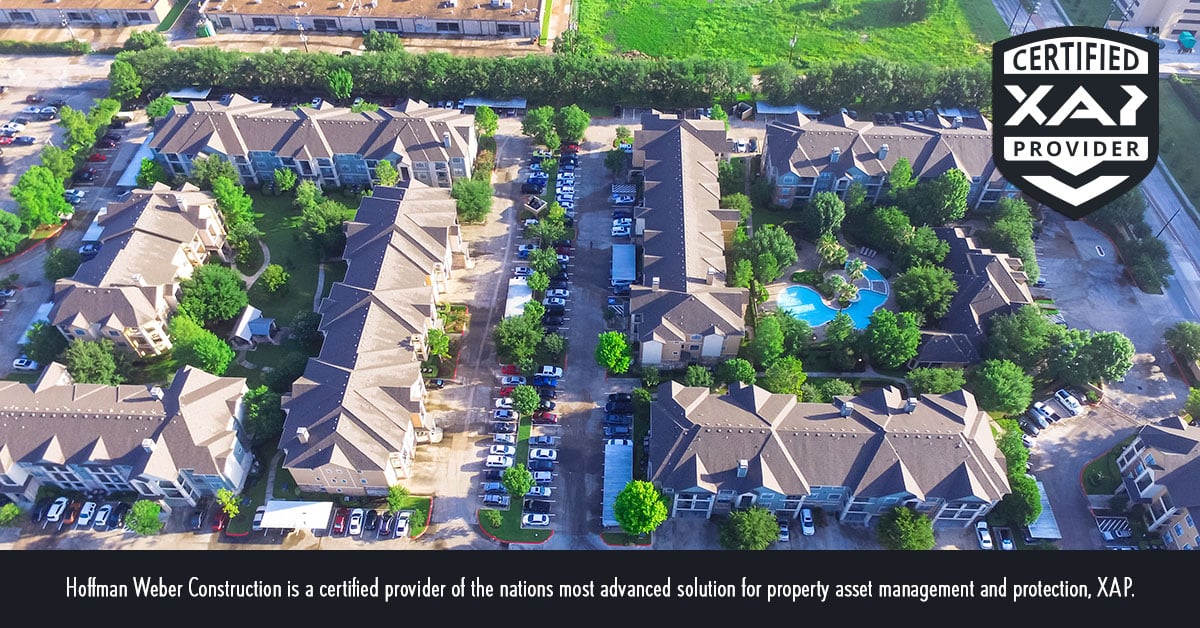 While many other contractors treat large and small projects the same and rely on independent sales reps to climb high roofs to document conditions and measure manually, Hoffman Weber employs state-of-the-art drones and sophisticated software. It's faster, safer and more accurate. And because many insurance adjusters use the same system, they seldom dispute damage assessments.
It was a big investment but it is worth every penny to enable us to offer best in class service and keep our people safe," said Multi-Family Director Ryan Arvola.
The XAP360 system and Kesprey drone Hoffman Weber uses actually flies itself. The operator locks in the GPS coordinates of the corners of the structure and the building height and the drone rises and takes photos that are so good you can see the individual granules on asphalt shingles. Because the software uses the imagery to create 3D renderings, measurements are said to be 99.5 percent accurate.
"Being off 2 percent on materials for a small home wouldn't be a big problem, but the system's incredible accuracy really pays off on big multi-structure projects," said XAP's Phil Pratt.
Independent salespeople who represent roofing contractors are not employees covered by the contractor's Worker's Compensation insurance and many lack their own insurance. So if they fall from a roof during an inspection the liability can fall back on the homeowners or their association. By relying on drones, the risk is greatly reduced. In fact, the drone itself comes with a $1 million insurance policy.
XAP also is a boon to homeowners associations required to comply with Minnesota's new Upkeep of Common Interest law. Once the drone "inspects" a community images are uploaded to a cloud server. That not only documents conditions that require maintenance; It establishes a base so future storm damage is evident and litigation is rare.
"With XAP Hoffman Weber can establish an ongoing relationship with homeowners associations to manage its maintenance, repair and replacement of exterior surfaces over time," Arvola said. And the initial XAP inspection is free.
To learn more about XAP or book your property inspection, contact Ryan Arvola at (866) 970-1133 ext. 117 or rarvola@hwconstruction.com.