Installing Energy Efficient Windows Could Qualify You for a Federal Tax Credit
by Hoffman Weber Construction, on July 27, 2010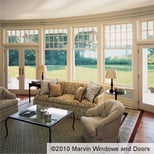 Whether you are installing windows as part of a new construction or replacing old windows, you should consider installing energy efficient windows. They may initially seem more expensive, but over time they can save you money on electricity and heating bills. If you need more persuading, the Energy Efficiency Federal Tax Credit has been extended until the end of the year and covers qualifying energy efficient windows.
Choosing Windows that Qualify for the Federal Tax Credit
for Energy Efficiency
The tax credit covers 30% of the cost of the windows themselves, up to $1,500, but does not include window installation costs. To qualify, windows must be installed before December 31, 2010 and must have a U-factor and Solar Heat Gain Coefficient (SHGC) of 0.30 or less. The U-factor measures how well the window insulates against heat transfer from outside to inside and vice versa; the lower the U-factor, the better the protection against heat transfer. Solar Heat Gain Coefficient (SHGC), which is measured on a scale from 0 to 1, measures how well the window blocks solar heat. These measurements should be clearly marked with the NFRC label on the window at the time of purchase.
Other Things to Consider When Buying New Windows
Check your local building codes to determine the requirements for structural performance for windows in your area. Structural performance ratings indicate how much wind pressure a window can withstand before its structural integrity is compromised.
The lower the air infiltration rating, the less air leaks into your home from the outside.
On the other hand, the higher the water infiltration rating, the better the window is at keeping water from leaking into your home.
There are also ratings for acoustical performance, which tells how well the window blocks noise, and security performance, which rates how well the window withstands impacts from burglary or debris.