Hoffman Weber Construction Opens Cheyenne, WY Office
by Hoffman Weber Construction, on July 23, 2011
Recently, residents of Cheyenne, Wyoming experienced severe storms causing extensive damage to homes and businesses from golf ball-sized hail. Hoffman Weber Construction has established a new office to help Cheyenne residents. The hail was so extensive that city crews had to use large front loaders to remove the hail from city streets. Early damage estimates from the Rocky Mountain Insurance Information Association put the price tag of the storm at $120 million with more than 4,600 homeowner insurance claims. Thankfully, there are no reports of physical injuries as reported by a Cheyenne Police Department spokesman.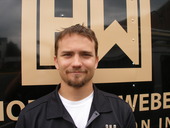 Led by Cheyenne native Zack Crawford, Hoffman Weber Construction is offering Cheyenne residents complete exterior remodeling services including roofing, siding, windows and gutters. Hoffman Weber Construction is experienced in handling insurance claims and damage restorations. We make the insurance process easy so you can focus on getting your life back to normal. We are experienced in roof replacements and have helped thousands of homeowners with their home restoration projects. Visit our photo gallery and see for yourself the quality of work we can do for your home.
If your home was recently damaged by the storm and you would like to have a trained and qualified Hoffman Weber Construction representative inspect your home, you may schedule a damage inspection on our website or call 866-970-1133.