Hoffman Weber Construction Named a Top 100 Roofing Contractor
by Hoffman Weber Construction, on August 06, 2011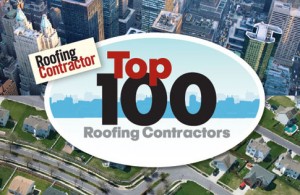 We're excited to announce that we have been named one of the Top 100 Roofing Contractors of 2011. This list, compiled by Roofing Contractor Magazine, is prestigious within the roofing industry, and we are honored to be a part of it.
The last few years have been exciting for us. We've opened damage repair offices in the following metro areas: Chicago, Illinois; Madison, Wisconsin; and, just last month, Cheyenne, Wyoming. Expanding our service area in the Midwest has allowed us to help more homeowners meet their renovation goals and to help more communities recover from storm damage.
We are humbled that Roofing Contractor Magazine has recognized our constant effort to care for our customers and their homes by delivering the highest quality workmanship, materials, and warranties. At HWC we work hard to stand out from the crowd, to differentiate ourselves from other roofing contractors. We go the extra mile to give our customers a remodeling experience like they've never had, an experience in which they can rest easy knowing they won't have to part with a cent until they are completely satisfied.
We are thrilled to be among the Top 100 Roofing Contractors and look forward to more successful roofing projects.