HWC Donates Basketball Court To Elementary School
by Hoffman Weber Construction, on October 19, 2012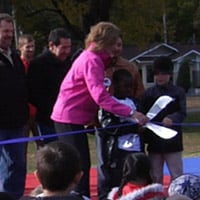 For elementary-aged kids, playing on the school's jungle gym and basketball court during recess or gym class is often the best part of their day.
Woodcrest Elementary School in Fridley, MN was equipped with sporting equipment designed for children of younger age groups. Knowing the older students were not able to play on this equipment, they applied for a state grant but were unfortunately denied. Thankfully Emmanuel Christian Center, also in Fridley, had a mentorship program with Woodcrest and discussed the issue with Hoffman Weber Construction President and CEO, Joe Hoffman.
As a Fridley native, Joe clearly saw the pressing need for new equipment. After learning what the school was seeking for the most, a Basketball Sport Court was installed, along with soccer goal posts and other gym equipment.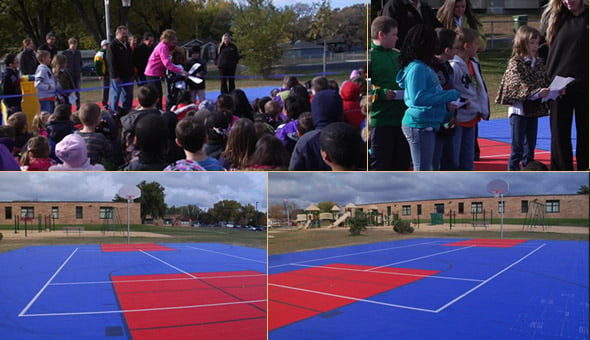 "These kids deserve a place where they can run around and enjoy themselves during gym class and recess and we're really excited that we were able to help out with this project"

"Giving back to the communities in which we live is a core value of Hoffman Weber Construction and its employees."

- Joe Hoffman
And the brand new basketball court, soccer goal posts and other gym accessories are definitely getting used. The school estimates that between 300-400 kids use the equipment on a daily basis. Hoffman Weber Construction is proud to help out our friends, neighbors and especially the children who benefit the most.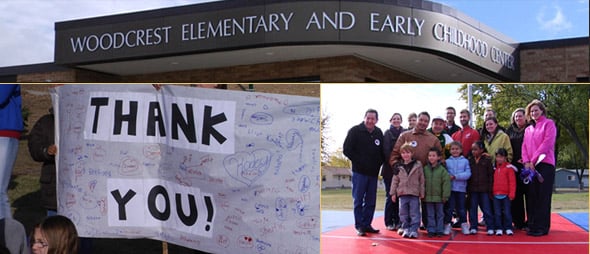 Hoffman Weber was also highlighted at the Spring Lake Park School District and Anoka County's ABC Newspapers.com