We Kicked Off 2013 At The Minneapolis Home & Landscape Expo
by Hoffman Weber Construction, on January 24, 2013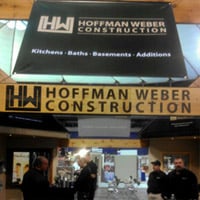 Hoffman Weber Construction got the ball rolling quickly in 2013 at the Minneapolis Home & Landscape Expo at the Hubert H. Humphrey Metrodome in downtown Minneapolis. Beginning January 4-6 and continuing on January 11-13, HWC showcased its complete service offerings to thousands of event attendees.

At the show HWC offered attendees a chance to roll the dice and win a free iPad Mini. Our enter to win $25,000 toward home remodeling services.
Our representatives were available to answer interior or exterior home remodeling questions and discuss how HWC goes beyond other contractors. The team had a lot of fun meeting new people and interested customers.
The HWC booth was second-to-none. We used four high-definition TVs to help showcase the quality of work our customers know best – it pictured beautiful roofing, siding, windows and more!
There was even a special appearance by the Owens Corning Pink Panther. For more pictures from the Minneapolis Home & Landscape Expo, please be sure to visit the HWC Facebook page and like our page if you have not already!
If you missed the Minneapolis Home & Landscape Expo but would like to learn more about HWC's service offerings, please give us a call at 866-970-1133 and one of our representatives will be happy to assist you.