Is Your Aging Deck Still Safe?
by Hoffman Weber Construction, on May 25, 2013
Forget about whether your home's deck needs the latest low voltage lighting or a fresh coat of stain before the big party. Ask yourself this: Is it safe? Specifically, is the whole structure at risk of falling off your house if you load it with your family and dearest friends on the Fourth of July? Will the guard rail let go if your mother-in-leans over to see a bunny below? Will the stair stringers hold if your son's friends make a dash for the pool? And will the skeletal structure survive a severe storm with high winds?
Old Decks Are Risky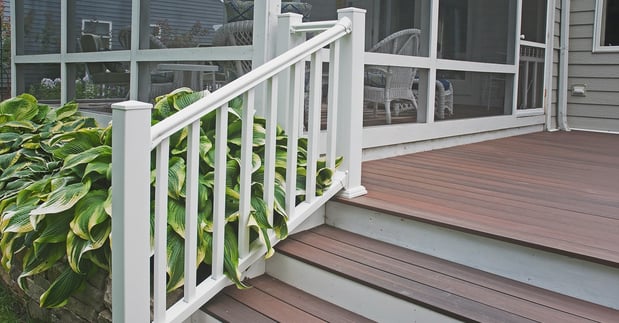 A recent study estimated that US homes and businesses have 40 million wood decks that are more than 20 years old. Nothing lasts forever. And as wood structures go, decks are particularly exposed and vulnerable to the elements. The current safety of your deck is based on the quality of construction and materials, how well it has been maintained and your regional climate.
Building materials and practices have improved and building codes have become much more stringent over the past 20 years to resist rot and corrosion, improve attachments and prevent falls. In general, guard rails are stronger, ledger boards are attached better to houses and stairs are safer. Code officials also want to make sure decks don't cause water damage to your house or pull away in a storm.
Here Are Some Deck Danger Signs
Ledger is attached with only nails
Corrosion to framing hardware
Ledger is installed without flashing
Railing posts are notched or installed with nails or lag screws
4 in diameter ball can pass between deck rails or through open stair treads
6 in diameter ball can pass beneath stair rails
Posts or decking are rotting or cracked
Stair handrail is not grasp-able
Overhead power lines are less than 10 feet from decking
Deck Inspection Checklist and the Hoffman Weber Fix

The North American Deck and Railing Association (NADRA) offers a Deck Safety Awareness Checklist to use when checking your deck. Give it a go. Then contact Hoffman Weber Construction for a free Zero Pressure Consultation. We'll let you know what it will cost to repair the deck or replace it with one that meets all current building codes before the International Residential Code and your town impose even more stringent requirements.