Time's Right to Remodel Your Bath
by Hoffman Weber Construction, on July 10, 2013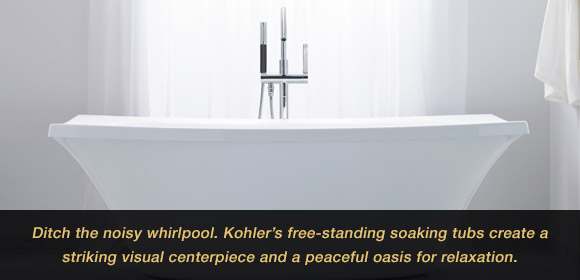 Done right, a bathroom remodeling project delivers many valuable benefits:
Protection from electrical shocks, slips and scalding water

Heightened efficiency for shared use by working couples
Added comfort for people with back problems
Improved accessibility for aging owners or visitors
Responsible water and energy conservation
Higher resale appeal and home value
Priceless emotional rewards
Safety comes first
Remodeling is the perfect time to upgrade a bathroom to meet the latest building codes and best practices for safety, accessibility and conservation. These improvements include a dedicated GFCI-protected 20-Amp electrical circuit for powerful hair driers, a quiet but efficient ceiling fan to exhaust moisture, LED lighting fixtures, a comfort-height low-flow toilet and vanity, stylish fixtures that double as grab bars, slip resistant flooring and maybe even a large curb-free shower.
The right remodeling also can make it better for busy couples to share a bathroom and get what they truly want and need, such as a quiet soaking tub as a personal retreat, dual vanities with superior storage, easy-clean surfaces and a privacy wall for the toilet area.
What it worth?
According to the Remodeling 2013 Cost vs. Value Report[1], Minneapolis area homeowners who spend $19,125 on a mid-range bath remodeling project could expect to recoup 59.3% of the cost at resale. Meanwhile, a $56,068 upscale bath remodel in this area is said to retain 55.5 percent of its value.
Because most baths are relatively small compared to other rooms in the house, they are a wonderful place to express one's self with creative tile designs and splurge with beautiful plumbing fixtures.
If you want a place to indulge yourself, the bathroom is a great place to start. Consider this. It's the first room you experience when you start your day and probably the last one you spend time in at night. What is it worth for a working mom to be able to lock a door and relax in a deep soaking tub while sipping a glass of wine at the end of a hectic day? How about a shower that's big enough for a guy to share? Caution: your water use may vary. And what if war broke out while two people rushed to get ready for work? It's amazing the difference that dual basins and fog free mirrors can make at 6:30 AM.
Hoffman Weber's Got Your Back
You can count on Hoffman Weber to help you achieve your dream bath with a toe firmly planted in reality. For example, moving plumbing fixtures increases costs considerably, so we explore creative ways to work with the existing floor plan. And if you want a shiny sheet marble floor, we will suggest a safer mosaic marble tile to give feet a place to grip.
Call us today for a zero pressure consultation to discuss how your new bath can be safe, efficient, gorgeous and green.
[1] © 2013 Hanley Wood, LLC. Complete data from the Remodeling 2013 Cost vs. Value Report can be downloaded free at www.costvsvalue.com.