We Shine After Severe Storms
by Hoffman Weber Construction, on July 15, 2013
Hoffman Weber Construction understands that storm repairs are among the most daunting for homeowners and small business owners because they require quick action, specialized knowledge and trust. That's where we shine.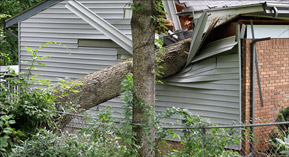 Contractors schedule work far in advance and smaller ones aren't able to adjust to take on emergency repairs. Fortunately, Hoffman Weber specializes in rapid response. When severe weather damages your home or business, our crews operate like S.W.A.T. teams. Need a fallen tree removed after straight line winds in the Minneapolis area? No problem. Roof shingles blown off in Oklahoma? We've got it covered. Siding and windows pounded by large hail in Omaha? We're on it.
Storms Bring Out Our Best
Natural disasters such as tornadoes, severe hail, straight line winds and flash floods bring out the best – and the worst – in contractors. Hard hit regions often attract newer and less qualified contractors who move on after the initial wave of work is done. They also may lack the knowledge to protect homes from mold that can begin to grow within just a couple of days of a water infiltration event.
It's not enough to select a contractor that is licensed and insured. You need a company that's large and experienced to marshal needed materials and manpower on short notice. You also want a firm with significant insurance claim experience and that will be around long after the storm clouds clear.
Thorough Storm Damage Claims
To obtain a fair insurance settlement, you must understand the full extent of the damage and the cost to make things right. Hoffman Weber goes beyond the obvious and is prepared to back up every item with insurance adjusters. For example, it's not enough to settle for new windows. They should be of comparable materials and quality and the claim should include removing and replacing surrounding siding and replacing and finishing interior trim. As General Contractors, we are skilled at managing big projects that require coordinating multiple trades. These relationships also mean we can assemble broad teams of the most skilled tradesmen when individuals and small contractors will have to wait.
Proven Trust
You can trust Hoffman Weber Construction. See for yourself on the Better Business Bureau, Angie's List, GuildQuality, or Google Reviews. Better yet, if disaster strikes, don't wait. Speak with a Hoffman Weber project manager right away and schedule a free Zero Pressure Consultation.