Hoffman Weber Provides Rapid Response To August 6 Twin Cities Metro Hail Storm
by Hoffman Weber Construction, on August 07, 2013
Severe thunderstorms that rolled through Central Minnesota last night produced high winds, large hail and heavy rain that damaged roofs, siding, windows and vehicles, toppled trees and left more than 44,000 homes and businesses without power.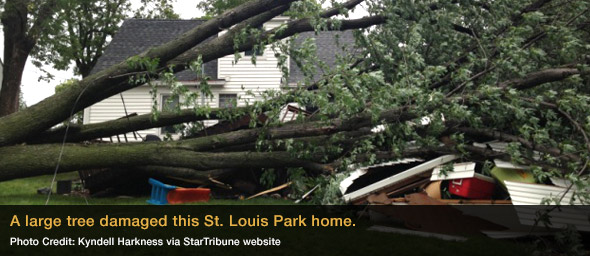 South and West Twin Cities suburbs were hardest hit, including Eden Prairie, Edina, St. Louis Park, and Bloomington. Hail ranged from 1.25-in. diameter in Delano to more than 2 in. in Bloomington according to the National Weather Service. To the west, trained storm spotters reported 3-in.diameter hail near New London and 2.5-in. diameter hail near Morris and Sunberg.
Minneapolis-based, Hoffman Weber Construction already is assisting storm victims by clearing downed trees and inspecting structural damage so homeowners and business owners are prepared to file insurance claims that cover all storm-related damage.
"The only way to know for sure if your roof is damaged and the extent of that damage is for a professional to go up on the roof and inspect the shingles, vents, flashing and gutters," said Hoffman Weber General Manager Mike Sample. He urged Minnesota property owners to call 866-970-1133 for same day response.
Hoffman Weber is prepared to meet with insurance adjusters during their inspection to make sure nothing is missed. It also it will give storm victims priority scheduling to repair damage.