Wind Resistant Shingles: F Grade = A+ Performance
by Hoffman Weber Construction, on September 25, 2013
You don't have to live along a hurricane-prone coastline to appreciate the value of Class F-rated wind resistant asphalt roof shingles. The best can withstand blows up to 130 mph from straight line winds or tornadoes. That's more than twice what the average three-tab shingle will survive. The superior strength is achieved by improved sealant strips, nailing surfaces and stiffness.

Reinforced Nailing Strips Reduce Tears
In the old days, installers increased the number of nails from the standard four nails to six per shingle to improve holding power in high wind. This provided 50 percent more attachment points, but it also created as many additional perforations of the roofing underlayment and wood deck that could cause leaks. And if the nails weren't installed flat and without tearing the shingle surface, it could actually weaken the hold.
Courtesy Owens Corning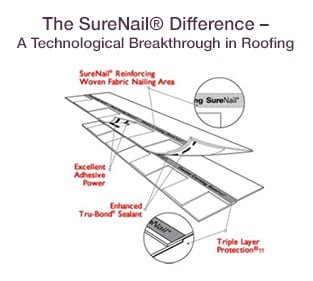 Today manufacturers reinforce the nailing surface itself and maintain normal fastener spacing. For example, Owens Corning uses a patented SureNail® Technology: a tough, woven fabric that is embedded into the face of the shingle along the nailing line. This not only adds a third ply over the overlapping shingle layers. It reduces nail blow-through (overdriving) and pull out. The visible strip also enables installers to reliably place each nail (at production speed) in precisely the best position for maximum strength.
Superior Sealant Prevents Shingle Uplift
The adhesive strip that seals the bottom of each shingle to the one below is just as important because it prevents the shingles from lifting or peeling back in high wind. Shingle manufacturers have improved the adhesive formula and they apply more sealant on their better shingles to ensure the most reliable bond.
Performance Underlayment for Added Peace of Mind
Premium asphalt-singled roofs also benefit from improved underlayment that provides a more reliable second line of defense. Deck Defense® High Performance Underlayment from Owens Corning uses a durable synthetic layer and water resistant surface that resists tears better than ordinary roofing felt and can be left exposed for up to six months. It comes in 4-ft.-wide rolls rather than the standard 3-ft-wide roofing felt rolls for fewer joints.
The Platinum Preferred Difference
Owens Corning Platinum Preferred roofers, such as Hoffman Weber Construction, follow the most stringent and comprehensive installation standards and are able to offer the best and longest warranties in the industry. To learn more about shingles that are wind resistant, impact resistant or that keep attics cooler, request a free Zero Pressure Consultation.