When choosing a roofing contractor after a storm, many people want to make things even better before. That could mean upgrading to higher performance products, selecting a dramatic laminated shingle design or adding high-capacity gutters. What they don't need is for workers to inflict collateral damage in the course of the job. At Hoffman Weber, we train our crews and associates to treat property as though it is their own. Occasionally, accidents do happen. But we take pains to make sure your experience is all good.
Protecting People and Plantings
Replacing roof shingles is a messy job that exposes thousands of nails and all sizes of debris. It also attracts a small army of men and heavy equipment including dumpsters and delivery trucks. Our first priority is personal safety. So our crews wear fall arresting gear when working on steep, high roofs. Next, we protect the landscaping and paved areas around the structure using large tarps and sheets of plywood. This keeps most of the debris off the lawn and garden beds. But we also police the area with powerful magnetic brooms that suck wayward nails right out of the lawn and mulch. That way, no one has to worry about a lawn mower flinging old fasteners onto the driveway or street and causing flat tires weeks after we leave.
Extra Care for Paving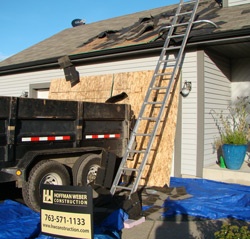 Hoffman Weber also takes special care to protect driveways. The easiest approach to collect old shingles is to park a huge roll-off dumpster at the top of the driveway so the crew can toss armfuls of old shingles directly into the container. Unfortunately, large roll off dumpsters are very heavy, especially when full. Even with wood skids laid on the pavement, they can cause concrete and asphalt to crack, sink and crumble. Large boom trucks are just as bad. While it's efficient to hoist heavy shingles directly onto the roof, it's not worth wrecking a driveway.
Hoffman Weber favors dump trailers over roll-off dumpsters because they are lighter and the tires a gentler on driveways. However, we lay large tarps on driveways to prevent oil spots or rust stains. Older driveways are the most susceptible to damage. In this case we may suggest parking the dumpster on the street if the city allows or on the lawn. Better to replace a little sod than an entire driveway.
What's it Worth?
Premium protection isn't easy or free, but it is essential when you really are committed to making things even better than before. What's it worth to avoid a flat tire and to preserve mature garden beds? We think it's priceless. We expect nothing less. Neither should you. Contact Hoffman Weber today for a free quote.