It's High Time to Upgrade Attic Insulation
by Hoffman Weber Construction, on February 11, 2014
Winter is the best time to increase and improve attic insulation because problems are easiest to spot and benefits begin as soon as the project is completed. It starts with having enough insulation. But sealing air leaks and ensuring proper ventilation are equally important.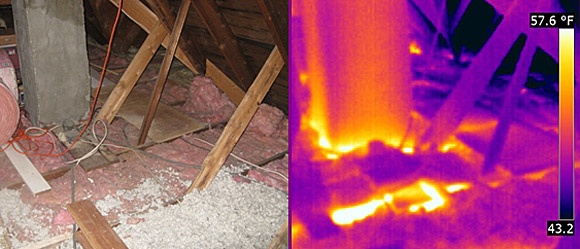 How much insulation do you need?
The residential energy code for Minnesota and most of the states Hoffman Weber Construction serves recommends a minimum insulation value of R-44 in open attics. When space allows, Hoffman Weber recommends adding enough insulation to achieve R-60 performance. That's the equivalent of about 20-in. of Owens Corning AtticCat expanding blown-in fiberglass insulation.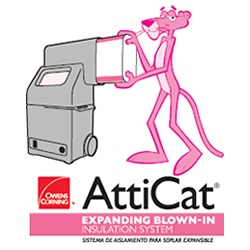 If the insulation at your attic access is less than 15 in. it probably does not meet the current building code for new construction and is wasting energy. At 15-in., your comfort and heating savings still would benefit by adding 5 in. of insulation on top of what you have.
The US Environmental Protection Agency estimates that homeowners can save up to 15 percent on heating and cooling with careful air sealing and additional insulation.
Is Your Roof Speaking To You?
Often, all you have to do is look at your roof to know if you have attic insulation problems. Does snow melt faster in some areas? Does it disappear a lot sooner than your neighbor's? Do ice dams form along the eaves and valleys? These are signs that warm air is escaping through or around your attic insulation.
Professional, infrared scanners provide a more precise way to identify insulation gaps and air leaks at a glance. The hand-held devices are used to measure differences in surface temperature along ceilings, walls and floors. If you are losing heat through recessed lighting fixtures, poorly insulated eaves or attic stairways and access panels, the scanner will provide graphic proof and pinpoint the problems.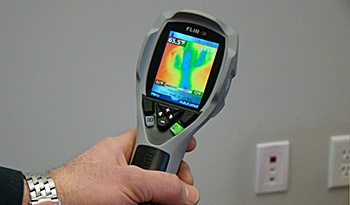 We are sweating the details
A proper attic insulation upgrade starts by making sure the area above the exterior walls is well insulated without blocking the air that rises from the soffit vents. The insulation should extend to the outside of the wall without blocking the soffit overhang. Hoffman Weber installs vent chutes or baffles against the roof sheathing between the rafters to maintain airflow above the insulation at the eaves.
Installers also locate electrical cables buried under existing insulation that emerge from the tops of walls and seal the holes with expanding foam to prevent warm, moist air from rising. Owens Corning SmartCaps are secured over recessed ceiling fixtures that are not rated for insulation contact. And thick fiberglass batt insulation is adhered to attic access panels so it stays in place when closed.
Water dripping from ceiling exhaust fan?
If water drips from a bathroom exhaust fan in cold weather, it probably is because the inside of the duct is coated with dust that traps moisture and condenses as the duct travels through the colder attic. Or an un-insulated duct may have been installed improperly. Insulation crews can correct the problem by cleaning the problem duct and wrapping it with insulation or by installing a new, insulated duct.
The Ins and Outs of Attic Ventilation
As attics warm, air is drawn through lower vents in the soffits and released through upper vents at or near the ridge. This prevents condensation that can reduce insulation performance and attract insects and pets. Over time, screens behind soffit vents often become clogged with dust or paint. When installers suspect airflow is compromised, they can replace existing vents with slightly larger ones to restore proper ventilation without exposing ugly paint lines.
General contractors such as Hoffman Weber are not limited to insulation. They are able to provide complete remodeling and repair solutions including roofing, gutters, siding, windows, doors, insulation, and ventilation. For a free attic inspection and estimate, Contact Hoffman Weber.