Still Time to File 2013 Hail Damage Claims
by Mike Kennedy, on May 08, 2014
Minnesota insurance officials expect the tail of hail damage claims to hit this spring from the August 2013 storms that already have tallied $850 million in property losses across the state. If your property experienced hail and high winds last summer, you owe it to yourself to have your roof, siding, gutters and windows professionally inspected and to submit an insurance claim as soon as possible if legitimate storm-related damage is found.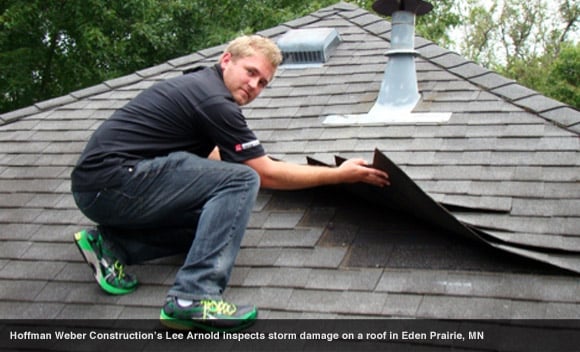 Policyholders have up to two years from a weather event to file insurance claims. But some carriers, such as Farmers Insurance, cap it at one year. With the massive scope of last year's damage and the trend toward more frequent severe weather, roofing and siding contractors in Minnesota, Colorado, Nebraska and Kansas expect 2014 to be another busy year. So don't wait.
Minnesota Now a Top Catastrophe State
The unprecedented storm losses of recent years already have pushed Minnesota property insurance rates to the 14th highest in the nation, up from just 35th in 1998, according to Mark Kulda of the Insurance Federation of Minnesota. "1998 was the watershed year. We had $1.5 billion in losses in Minnesota. That was more than the previous 40 years combined," he said. "Then, Minnesota led the nation with 144 tornadoes in 2010. We are increasingly becoming a catastrophe state."
Kulda said the average Minnesota homeowners' insurance premium now costs $1,056. But he challenged a recent www.insurancequotes.com report that suggested Minnesota homeowners insurance rates rise a whopping 21 percent (the highest in the nation) after a first claim. He explained that the website uses an average of price quotes – not the cost of the policies that were actually bought. He also said their reliance on national averages is meaningless because each state regulates insurance rates based on its own unique risk profile. "Florida has hurricanes, the Northeast has ice storms, we have hail and tornadoes. You can't treat them the same," he said.
Storm-damage Claim Not a Chargeable Event
It also is important to understand that in Minnesota, a storm-related loss is not considered a "chargeable" claim like losses from fire or theft. That means your insurance rate can't be increased and you can't be dropped during the current policy if you file a storm damage claim. But like other claims, it will impact future premiums.
Policy holders are responsible for maintaining their properties so they are not overly susceptible to storm damage. Erin Janke from Farmers Insurance in Robbinsdale, MN, notes that some homeowners put off getting new roofs they needed during the economic downturn and filed insurance claims after storms damaged the more vulnerable shingles. Kulda says it now is routine for insurers to inspect homes before they approve new policies to flag glaring maintenance issues before they assume the risk. Homeowners who apply for a new policy over the winter may be placed in a more costly high-risk pool until the weather clears and they can get an old roof replaced, according to Janke.
Overlap Insurance Policies to Be Safe
If you plan to change insurance companies, Kulda suggests carrying dual policies for the first two months. He cited a little known law that enables insurance companies to rescind new policies within the first 59 days. "You may even have made the first premium payment. It doesn't matter. If they send an inspector who finds serious maintenance issues, you could be left with no insurance if you already cancelled your old policy, he said.
Upgrade Buildings Materials for Insurance Discounts
On the other hand, insurance companies often reward policyholders who install more storm-resistant building materials. "They won't pay the difference to upgrade to hail- and wind-resistant roof shingles and siding, but the premium discounts will offset some of the cost and you get a better house," Kulda said.