Terry's John Zila's Recipe for a Successful Kitchen Remodeling
by Mike Kennedy, on May 08, 2014
Call it couples therapy. When a family contacts Hoffman Weber Construction to remodel their kitchen and Terry John Zila responds, they're in for a treat. By the time the last appliance is installed they may even invite him back to cater a dinner party for a couple dozen of their closest friends or have his Newfoundland puppy, Bear, over for a romp with the kids.

Terry isn't your typical construction manager. He's got the academic and work experience. But he also teaches cooking, creates unforgettable wedding cakes, and cooks for private parties. The common denominator for all of these pursuits is communication, trust and fun. That can be especially challenging in the remodeling process so Terry has these tips to make your remodeling experience a good one.
Failure to Launch?
Husbands often leave many of the early kitchen remodeling choices to their wives, saying it's their kitchen and they can call the shots. Then, as the design, material selections and budget take shape, they begin to weigh in with opinions of the own. Terry's guy tip? Engage early or be prepared to pay the price later. Changes always cost way more, so show up and speak up.
Like most project managers and designers, Terry prefers to meet with couples together so he can get a feel for how partners communicate with each other and handle the decision making dynamics. In reality, he says, many people don't know what they want or how much they are willing to spend until they see it. He offers many options in the second meeting and helps clients identify the best fit.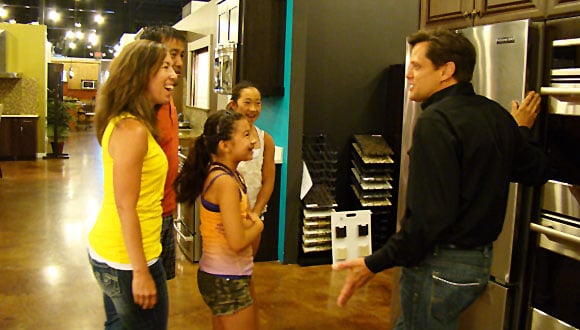 Get Real!
Terry is all for couples doing their homework by researching products and materials on their own and gathering photos or links to what they like. But he cautions his clients to use television design shows more for inspiration than substance. The problem is that prices quoted on TV show projects often are for labor alone because manufacturers donate products for the exposure value. Plus what appears to come together in the course of a half hour show doesn't actually happen in 30 minutes any more than a pot roast becomes melt-in your mouth ready in the time between commercial breaks. Expect your project to take much longer.
SF (Small Fraction) Cost
When you visit a showroom and pick out a tile that is $6 a square foot, remember that price is just for the product. Imagine the manpower, coordination, skill and related materials required to calculate and order all of the different pieces, stage them at warehouse, deliver them to the site and install them at just the right time on your floor or backsplash. Somebody's got to pay for that too.
Talk to me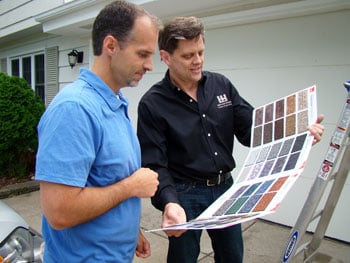 Terry's most important rule is "you can't over-communicate (with him)." Hoffman Weber has formal communications systems to coordinate among managers, suppliers and production crews. Meanwhile, Terry encourages clients to share as much information as possible with him, whether in meetings, emails, text messages or phone calls. Despite his busy life, he prides himself on responding quickly so little matters don't become big concerns. If he is available when he receives a client communication on his iPhone at 8PM on a weekend, they shouldn't be surprised to receive a reply right away.
Final advice? Terry's little black Bear dog is expected to grow to 150 pounds so you might want to request a zero pressure consult and plan your play date early.