Counter Intuitive: What's Tops for Your Kitchen Remodeling
by Hoffman Weber Construction, on August 19, 2014
Kitchen countertops aren't just work surfaces. They also are showcases and gathering spaces. Build a breakfast bar and they will come. So you need a material that will stand up to the physical and visual attention.

To choose the right countertop material, don't consider everything but the kitchen sink. Rather, start with the sink. Undermount styles are wonderful because they let you sweep spills and crumbs from the counter without getting hung up on a raised rim.
You can't install an undermount model against a plastic laminate countertop. The moisture will cause the edges to delaminate and the particleboard base to swell. Undermount sinks can be used with any type of natural stone, engineered stone, solid surface plastic or metal countertop.
Match Counter Material to Your Use
Countertop materials look and perform differently. If your kitchen is more of a showcase than a workspace, durability and maintenance are less important. But you will want something that meets the demands of a real work surface if you cook every day.
Quartz countertops are engineered from quartz rock and resin. They are extremely hard and non-porous so they resist stains and scratches and require no special maintenance. Cambria is a leading Minnesota-based brand.
Granite countertops are cut from slabs of solid stone. They are similar to quartz and actually contain some quartz. But because they lack the resin, they are porous and must be sealed a couple of times a year to prevent stains resist bacteria. No big deal. It also helps to clean up spills promptly. As Hoffman's Terry John Zila says, "If you wonder whether granite will last, just look in a graveyard."
Marble countertops are gorgeous but they yellow over time and are more prone to stain.
Solid Surface countertops are formed from acrylic or polyester resins and filler. The plastic is nonporous and the color goes straight through. Acrylic is harder and more fade resistant than polyester but both can be lightly sanded to remove minor scratches. Unlike stone, joints are practically invisible.
Stainless Steel countertops project a commercial kitchen look and are both durable and easy to clean. But consider a brushed or matt finish to avoid fingerprints and water spots and mask scratches.
Copper countertops provide unique character, but you need to celebrate the old-world imperfections and patina that develop over time. They're not for fussy chefs.
Concrete countertops - are more like hand-made art. They can be stained or acid etched for a rich patina or incorporate recycled glass for dazzling contrast. Like granite, they must be sealed periodically to resist stains and bacteria.
Wood countertops may be solid or butcher block. They are stunning when paired with painted cabinet but not as forgiving as stone or solid surface plastic. Varnished counters scratch and scorch. Oiled ones ones may stain but are easily restored with sanding.
Recycle paper countertops look great in funky, contemporary kitchens, but they don't fit as well in traditional homes, according to Terry.
Plastic laminate counters offer the lowest cost, the broadest array of colors and patterns, and great stain resistance, but Terry typically steers clients away from this option because laminate projects a budget-conscious image. "If you choose laminate get the best quality and don't try to make it something it's not," he said. "Laminate made to resemble granite just tells everyone you really wanted granite but didn't want to spend the money."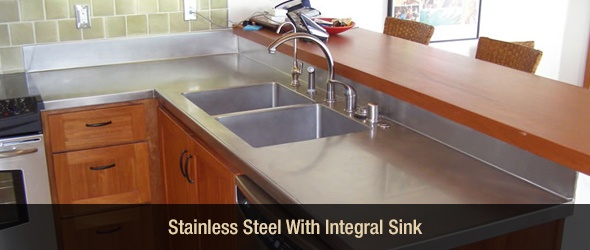 Edge Profiles Impact Durability, Safety and Looks
Sharp edges and pointy corners on any counter material can be dangerous to children and the elderly. On stone countertops they also are more vulnerable to chip with hard impact. Rounded edges are safer and more durable. For a more distinctive detail consider a bullnose or ogee stone edge.
Choosing Counter Color and Pattern
Never choose a countertop color or pattern from a small sample. You need to view a large piece to envision how it will look in the space. Because every stone countertop slab is different, select the actual slab that will be used to avoid surprises.
Don't be afraid to mix and match. For instance, choose something special to accentuate the center (of attention) island. This strategy also can work if you have a lot of counter space and a limited budget.
Comfort Consideration
If you are accustomed to laminate countertops and considering changing to granite consider having a Feels Warm low-voltage heating panel installed in the bar area where people sit or rest their arms. The fabricator will rout a shallow recess into the underside of the slab to accept the thin panel and cover it with resin. Stone countertops don't have to be uncomfortably cold in winter.