Add Attic Insulation This Winter to Reclaim Comfort On the Coldest Three Dog Night
by Hoffman Weber Construction, on December 10, 2014
If you need your dogs to keep you warm at night, it may be a sign that heat is escaping into your attic from inadequate insulation and hidden air leaks. Hoffman Weber can help you reclaim your bed and comfort on the harshest three dog nights. Just contact us today. In as little as a few hours, we will seal energy-wasting air leaks, correct ventilation problems and add premium blown-in fiberglass insulation to achieve the recommended R-49 insulation value.


We start by scanning your uppermost ceilings with a thermal imaging camera to detect where heat is escaping from insulation voids and gaps around cables, ceiling fixtures and ducts. Then we determine the thickness and performance of your existing attic insulation and give you a price to make it right.
When the job is scheduled, older recessed lights and fans that are not approved for insulation contact will be protected with special, fire-safe caps and we will seal around cables emerge from the walls below. We'll take special care to insulate and windblock eaves to prevent costly ice dams. Then we will add enough fiberglass insulation to achieve the recommended insulation value without blocking the air intakes from soffit vents that are critical to keeping your attic cool and dry in summer.
Hoffman Weber prefers blown-in fiberglass insulation in attics because it creates a uniform blanket around odd shapes and obstructions such as roof trusses. And, unlike cellulose insulation, fiberglass will not settle over time or absorb moisture.
Some energy and comfort upgrades such as replacing a furnace and windows are expensive and take many years to recoup the cost. But increasing attic insulation can reduce pay for itself in heating and cooling savings in just a few years. Meanwhile, you can enjoy the enhanced comfort starting the day we complete the job. In fact, you may want to think about building the ultimate doghouse for your canine friends.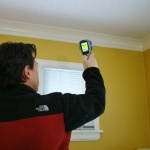 Your actual saving will depend on how much additional insulation you need to reach R-49, the efficiency of your heating and cooling systems and what you pay for energy. The US Department of Energy provides an online calculator to determine your estimated payback.