Suspect Hail Damage? Let Hoffman Weber Prove It!
by Matt McDaniel, on September 02, 2015
If your home has experienced a significant hailstorm this summer, contact Hoffman Weber today for a free, zero-pressure inspection. We not only will tell you whether you have a legitimate insurance claim. We'll prove it!
Our storm response team uses a strict quantitative & visual approach to document hail and wind damage to roofs, gutters, siding, windows and decks. While they are at it, they also will document if gutters, siding, windows or decking are damaged -- from dented metal to dinged paint and stain. Then Hoffman Weber will work with your insurance company to perform all needed repairs and replacements.
A trained Hoffman Weber inspector will go up onto your roof, mark off a 10x10 foot area with chalk and circle each hail hit within the area. Then he will take a video and photos of the damage to show you the extent of the damage. If there are at least five hail strikes in the 100 sf space, it definitely is worth contacting your insurance company for a complete roof replacement.
Insurance companies typically require 5 to 10 hits qualify a roof replacement. If the insurance adjuster suggests there isn't enough damage for a claim, you will have the proof – and a trusted contractor who can install the new roof for a fair price that your insurance company should accept.
Color Matching Requirement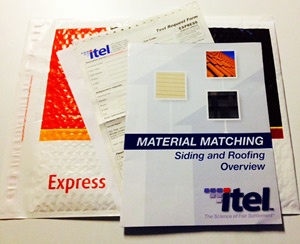 Hail damage can be localized based on the direction of the wind. You may have damage to one roof plane and not another, but you still are entitled to a complete roof to ensure the colors match.
Read More about matching requirements for insurance companies.
You probably will not be able to see the damage from the ground, even with binoculars. But our fully insured, trained storm damage specialists will inspect and photograph each bruise up close.
Getting a roof replaced is easy. Getting it done right, not so much.
You can count on Hoffman Weber for storm repairs that will both look good and last. It goes well beyond installing the shingles in straight lines. We also sweat the important details nobody sees:
Replace roof decking with proper expansion joints where needed

Install required waterproof membrane at eaves and valleys and around skylights

Install quality roofing felt

Install each shingle with the manufacturer-specified number of nails

Install new vents and boots

Install proper flashing

Protect landscaping and collect stray nails with magnetic brooms
Not Just Hail But Opportunity Knocking
If you have standard shingle roof, consider upgrading to architectural shingles. You will only pay for difference in material costs and your home will be more attractive and valuable than before the storm. Siding damage provides the same cost-savings opportunity to change from vinyl to Wood or Fiber Cement.



Although property owners have two years after a storm to file insurance claims, there is no good reason to put it off. Don't chance winter with a damaged roof.