Jen and Mike's 'Amazing' Minneapolis Kitchen Video Tour
by Matt McDaniel, on May 24, 2016
Mike and Jen Martin had big ideas for their small Minneapolis kitchen. More counter space and storage. Improved floor plan and organization.
Versatile, upscale appliances. Improved lighting and view of the yard. Quality materials. And above all, rich character.
With the help of Hoffman Weber Construction, they got it all – and at a price they could afford.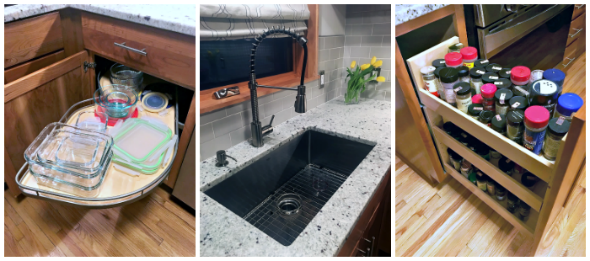 They say they chose Hoffman Weber because the award-winning Minneapolis remodeler offered the best bang for the buck and really listened to their goals.
In the end, the most important value was getting a kitchen that is uniquely their own with custom stone-facing, open display shelves and a granite peninsula that extends through the distinctive ogee archway.
If you are considering a kitchen remodeling, check out this video for solid ideas on how to make your own project as good as it can be. Then contact Hoffman Weber and watch it take shape.
Mike Martin Tip: If you have to be without a kitchen for several weeks, summer is ideal timing for construction because you can grill and eat outdoors.