Hoffman Weber Supports Our Troops With a New Roof, So Can You
by Matt McDaniel, on May 30, 2016
Honor Protection
Although we remember fallen soldiers each Memorial Day for making the ultimate sacrifice, Hoffman Weber knows that all active duty military, wounded warriors and their families also pay the price for the freedoms, security and values we cherish. In that spirit, our roofing crews are honored to participate in Owens Corning's Roof Deployment Project. You can help too.
Owens Corning Roof Deployment Project
Owens Corning launched the program in cooperation with the nonprofit Support Our Troops this spring to encourage each of its elite Platinum Preferred Contractors to donate a roof or roof repairs to a deserving military family in its local service area. Less than 1 percent of the nation's roofing contractors are Platinum Preferred. The certification requires special training and a commitment to adhere to the highest installation standards. This enables Hoffman Weber and fellow Platinums to offer the best roofing warranty in the business.
Hoffman Weber will donate $250 Care Package to a Soldier in Your Name
In addition to participating in the Roof Deployment Project, Hoffman Weber will participate in the Support Our Troops' Care Pak program.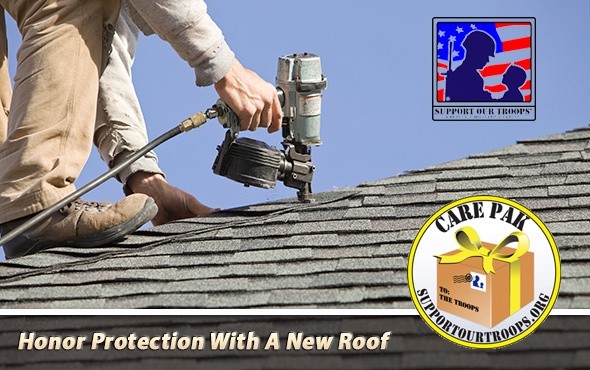 Hoffman Weber will donate a $250 care package to a soldier in the name of each Hoffman Weber client who purchases a new roof during the month of June.
Contact Hoffman Weber today to participate.
"When a soldier is deployed or returns home injured it can put extreme financial and emotional stress on the entire family. We are honored to help put a quality Owens Corning roof over a deserving military family's home and to boost the morale of our active duty soldiers serving far from home,"
said Hoffman Weber Construction President Joe Hoffman.
Hoffman Weber routinely helps families recover from severe storm damage in Minnesota, Colorado, Nebraska, Wisconsin, Iowa, Wyoming, Illinois, South Dakota, Louisiana, Arizona and Utah. Supporting military families with new roofs and care packages takes its community support to a new high.