Cozy Up To A Gas Fireplace
by Hoffman Weber Construction, on September 29, 2013
Updated 10/27/2020
The crisp snap of fall is in the air, and winter is just around the corner. As you look forward to cranking the heat and staying in, you may want to consider the classic charms of a fireplace. If that's the case, you don't have wait until next year to start warming yourself by the fire. Gas fireplaces can be installed quickly and safely, with no major construction necessary.

Warm Up Any Area of Your Home
With gas fireplaces, not only do you not need a chimney, you don't need a lot of room for your hearth. The ability to do zero-clearance installation means that you can put a fireplace outside traditional areas like a living room, and in places that make sense to you: master bedroom or man cave, in a corner or in the middle of the room. A well-designed fireplace can be a big part of a basement remodel -- and yes, we can help with that, too. Just about any scenario is possible, just as long as a gas line can run to it (easily doable in most homes).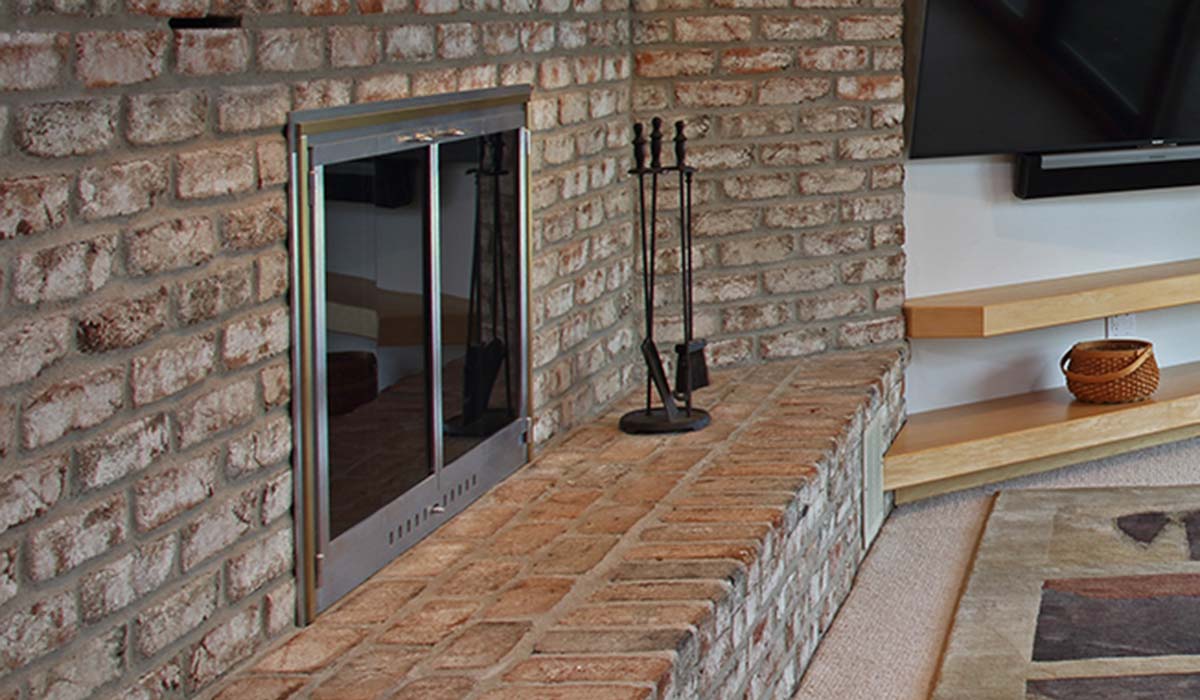 Gas fireplaces can help heat your home, too. They're often installed with blowers that push the warm air out the front of the unit, so it circulates throughout the room. You can even pair this with in-wall ducts as part of a larger remodeling effort to further distribute the heat over a large area, or even multiple rooms. The effect can be like having a second furnace in your basement. We can work with you to make sure you select a fan that's powerful enough for your heating needs, while quiet enough so it won't disturb you.
Enjoy Modern Efficiency
Today's gas fireplaces are engineered to work smarter than wood-burning fireplaces. They take in outdoor air to sustain the flame and cycle combustion gases exactly where you'd want them -- back outdoors, so you don't have to worry about the possibility of carbon monoxide inside your home. And unlike wood fireplaces, they won't suck hot air out of the room and up the chimney. Simply put, they're considerably more energy efficient than wood fireplaces, and safer for you and your family to use.
Pick a Style That Matches Yours
In addition to a variety of placement options, you can also pick a design that matches the style of your home. Choose a modern, see-through fireplace that joins two rooms, or a more traditional design that even sports realistic-looking logs (don't worry, they won't burn -- just adds ambiance). There is a tremendous amount of possibility given all the options available on the market.
Gas vs. Wood-burning: Which Is Best?
Gas fireplaces offer real everyday benefits over wood-burning fireplaces. Chief among them: convenience and safety. Flick a switch on the wall, and you get a well-lit fire. No going out for firewood on a cold day or taking the time to stoke and tend the fire. And because there's no material burned in gas fireplaces, you don't have to worry about your room getting smoked out or, even worse, chimney fires from creosote buildup.
After reading all that, maybe you have a wood-burning fireplace, and want to switch to gas. No problem! Consider a gas insert. In addition to an easier experience, you'll also enjoy energy savings from having a better seal on your chimney.
Call Us Today -- We're the Fireplace Experts
We know there can be a lot of questions with fireplaces. When you call on Hoffman Weber, we will handle everything from helping you through the design process and picking out materials, to installing your unit quickly and professionally. Whether it's a standalone fireplace or part of a larger remodel, Hoffman Weber can help you get the fireplace solution to make your home feel even more like home.