Exterior Contractor of the Year in 2019
by Hoffman Weber Construction, on November 25, 2019
The National Association of the Remodeling Industry (NARI) tonight named Hoffman Weber Construction its 2019 Minnesota Contractor of the Year for residential exteriors.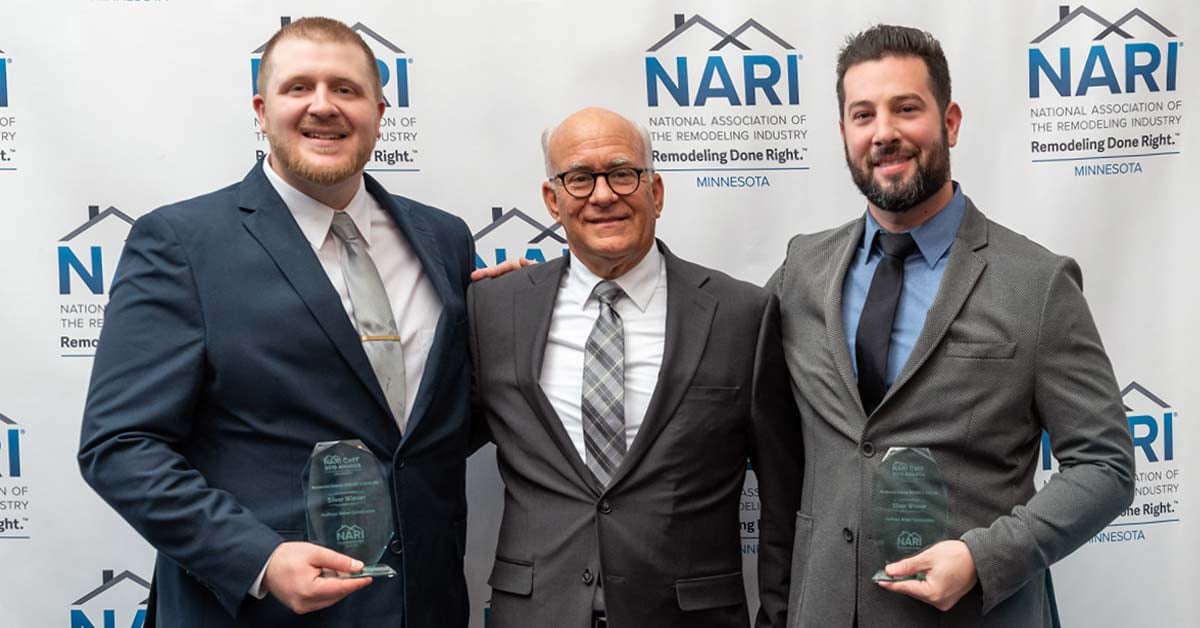 Hoffman Weber received silver-level honors in the Residential Exterior $100,001 to $200,000 category for a dramatic facelift in the exclusive North Oaks Country Club community. It also received a silver-level trophy in the Residential Exterior $50,000-$100,000 category for an Andover storm restoration project. Both jobs included structural changes, siding, roofing and windows.
The annual CotY competition recognizes remodelers whose design and construction improve functionality and aesthetics and demonstrate superior craftsmanship and problem-solving innovation. The 2019 wins add to Hoffman Weber's past CotY Awards for residential exteriors and kitchen remodeling.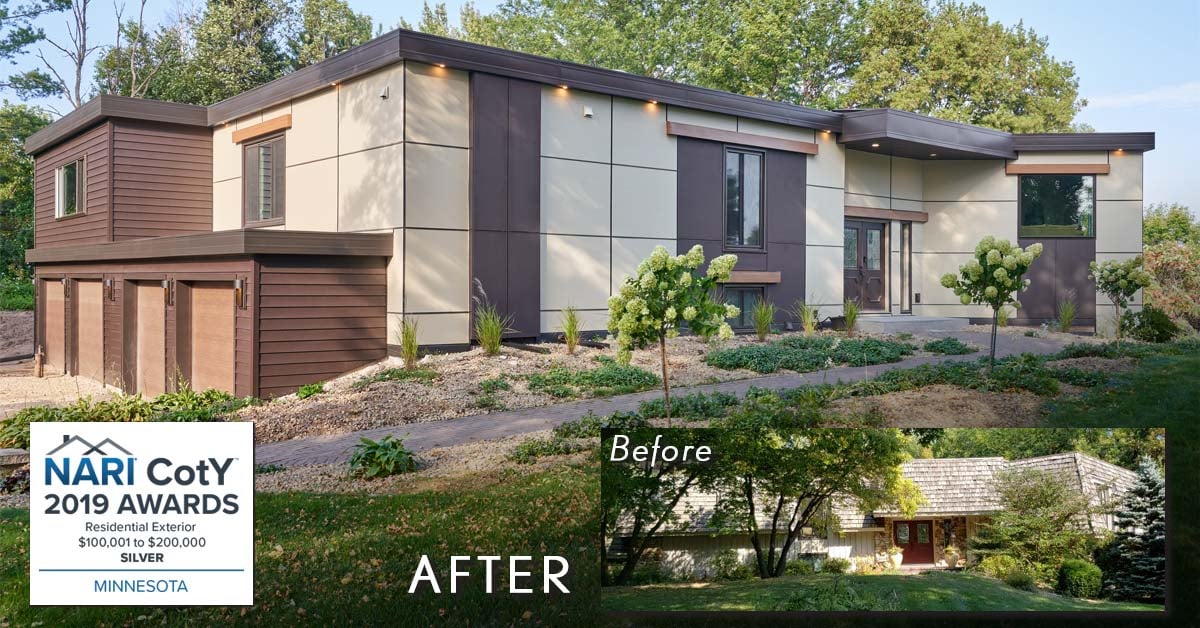 "What an amazing transformation!" one Kansas City judge said of the North Oaks transformation. It converted a dated mansard roof home into a modern Cubist design. "I see a lot of these mansard roof homes in my area and always wonder what can be done to update and modernize their look. Well now I know. This home looks great and will look great for many years to come."
View Residential Exterior $100-200K Award Winning Presentation
Hoffman Weber removed the low-hanging mansard roof and raised the parapet around the original North Oaks home to align with two-story garage addition. Then it resurfaced the entire structure with James Hardie fiber cement commercial Reveal panels, contrasting Edco steel lap side and metal Cedarwood clad eyebrows over the new windows and main entry. The association approved the bold design confident that it will attract younger buyers to the community and boost property values.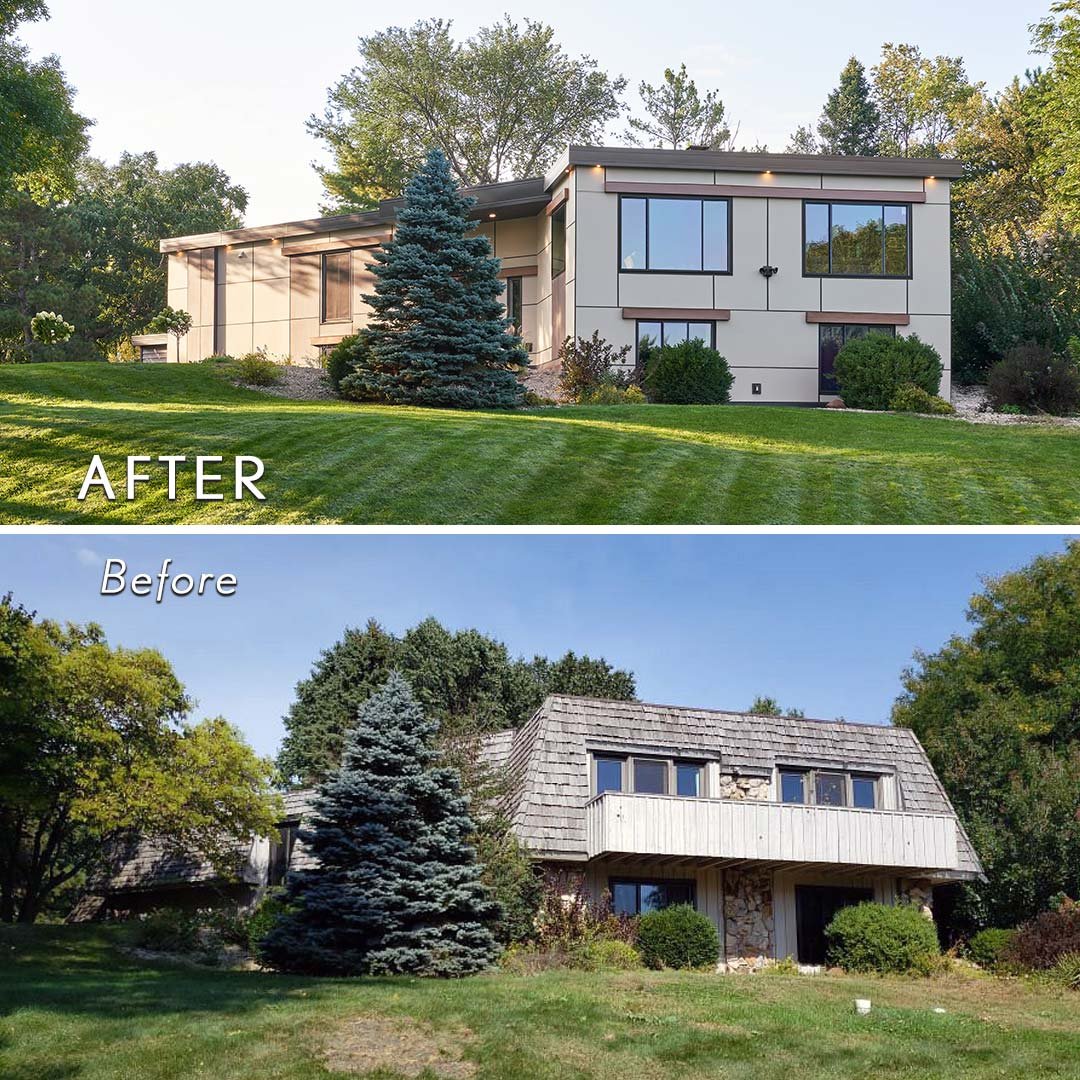 Other judges remarked, "This produced a major improvement in curb appeal" and "It's a great example of converting a home to a modern look."
Hoffman Weber turned a hail damage setback into a high-performance aesthetic upgrade at the Andover project. It literally elevated the home's curb appeal by converting twin half-hip gables into proud peaks and adding a unifying eyebrow over the garage. Alternating lap, shake and board and batten siding accent architectural features.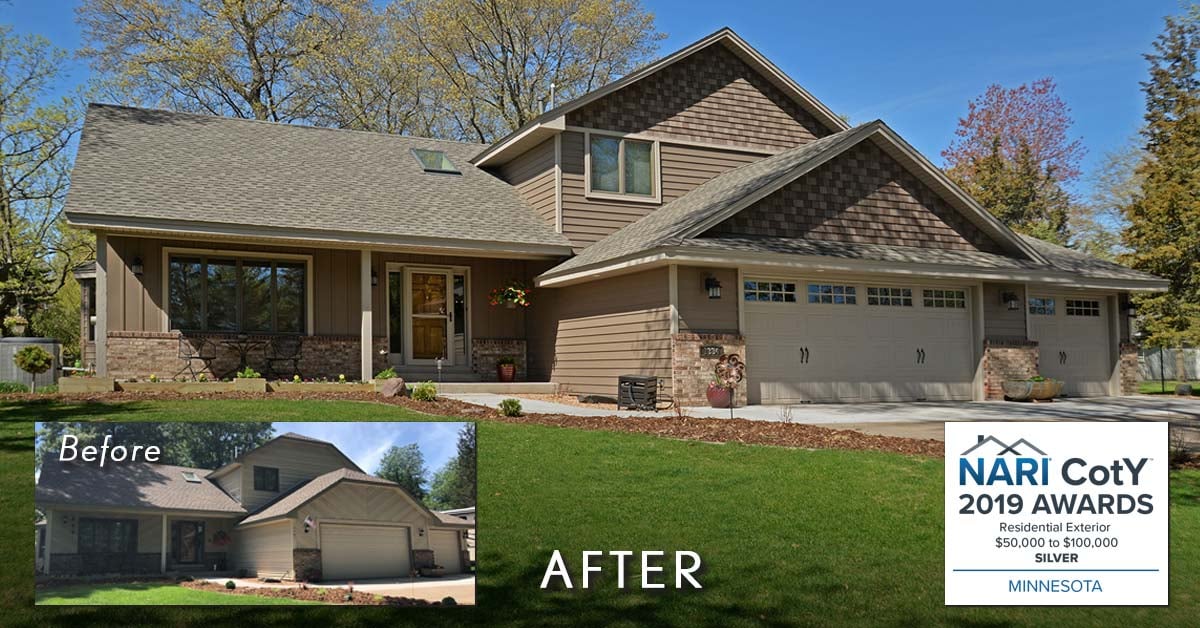 One judge remarked "This house looks so much happier after the updates. The contractor used a great mix of materials to add more detail and character to the home. I really like the shakes used in the gables and the different colors." Others commented, "There's a vast difference in appearance between before and after. Great improvement."
View Residential Exterior $50-100K Award Winning Presentation
Storyteller Tom Sweeney of Content Craftsmen LLC worked with Hoffman Weber Marketing Director Matthew McDaniel and Project Managers Keyth Hendricks and Jason Iwig to create the two winning award entries. Contractors and designers from NARI's Kansas City, MO, chapter judged the award entries based on presentations that did not divulge the member's identity.